Give shoppers on your website a better experience by installing a convenient dealer locator. This will show customers your closest location to them, making it perfect for businesses with multiple locations and an absolute must-have for franchises both big and small. Get more people to your locations by helping them find the most convenient one for them. More foot traffic will mean more sales, which is good for your business.
---
Dealer Locator Functionality
If your business has multiple locations, or if you have a franchise, you need a simple way for online customers to find the best store location for them. That's where the dealer locator can save the day. This feature will display a map from the customer's location to your closest store. This simple, intuitive tool is perfect for driving more foot traffic through your physical location, which is a wonderful opportunity for more sales.
Who is it for?
The dealer locator is for businesses and franchises who want to build a productive website that will generate more visitors and business for their store. Foot traffic is still one of the most reliable and productive ways to complete more sales and spread brand awareness. When you add a dealer locator to your store, you can save people time searching for your contact information and checking to see what their closest location is.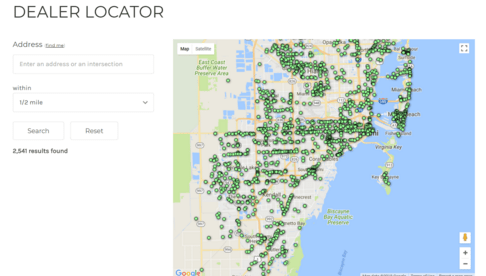 ---
What Does It Do?
The dealer locator feature will generate a tool customers can use to find your nearby locations. They simply enter their information, and the dealer locator will draw from a fully customizable database of your locations to show customers where to go and how to get there. Franchises can benefit from this feature a great deal. The more locations you have, the more important it is for you to help online shoppers find you in person.
Dealer Locator Functionality Benefits
When you have a simple, intuitive and convenient dealer locator on your website, you help customers get to your store in person. This is a more reliable way to close a sale is when you are face to face with customers. No matter how good your website is, customers are people. People like to get their hands on something and see what it is like before they commit to buying it.
---
The Difference Dealer Locator Functionality Makes
A store locator on your website can lead more foot traffic for your physical location. This means more word-of-mouth marketing, and more sales. Making your online and physical presence work together will have a positive impact on your business. An intuitive location finder will help you do that.
Try it
No matter how many locations you have, or how much information you have online, Optimum7 can help you install a dealer locator for your products. Contact us online, or call us at 866-848-6072.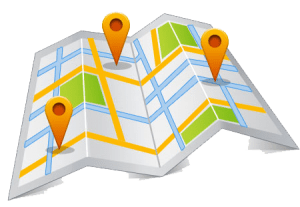 Questions?
We can help you determine which functionality is best for Shopify, Bigcommerce, Volusion, VTEX, Magento, 3d Cart, Wordpress / WooCommerce, Opencart, Episerver, Oracle ATG and any Custom Cart.
Contact us today with any additional questions you may have about our functionalities.