This functionality takes everything that worked so well about marketing emails and brings those qualities to Facebook Messenger. With 2 billion people using Facebook every month, this opportunity is too big to ignore. You can use this tool to automate important information for customers like reminding them of their abandoned carts, giving them order receipts, shipping notifications, and purchase follow-ups all through the popular Messenger app. This functionality will offer you the tools you need to build your marketing list as well. All customers need to do to become subscribers is check a box.
---
Abandoned Cart and Messenger Marketing
With an incredible 85% open rate, the Facebook Messenger app is an excellent platform for the same marketing content that yields such excellent results via email. You can collect subscribers to your marketing list through the fast and simple process of ticking a box. Your customers won't even need to enter their email address or fill out contact information to become subscribers.
Who is it for?
This is for eCommerce companies that want to deliver marketing content via the popular Facebook Messenger app. If you want to develop and expand your marketing list, this tool offers a simple box customers may tick to become subscribers. You can automate key messages like shipping notifications, abandoned cart notifications, receipts, and more.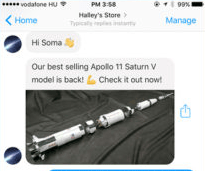 ---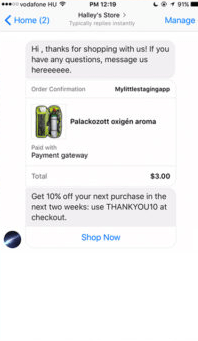 What Does It Do?
This functionality automates notifications from the Facebook Messenger app, which is an effective way to deliver marketing information to your customers. If you believe that Facebook Messenger is the ideal tool for you to build your company's marketing list, deliver abandoned cart reminders, order receipts, discounts, shipping notifications, follow up messages and more, this is the tool for you. 
Abandoned Cart and Messenger Marketing Benefits
Facebook Messenger offers the incredible benefit of holding an 85% open rate. This means eCommerce companies that automate marketing notifications to be sent through this app can increase engagement, conversions, and attention for their brand. Attention spans are short in the world of social media and eCommerce, which means you need a fast and simple way for customers to become subscribers to prevent them from bouncing during the process. This one-step subscription process will grow your marketing list with the help of Facebook Messenger's 50% click rate.
---
The Difference Abandoned Cart and Messenger Marketing Makes
The results of delivering marketing content via Facebook Messenger is that your eCommerce company is now grabbing the attention of customers and potential subscribers using a medium with a powerful open and click rate. The best part about this is the fact that you can automate such a variety of important notifications when using this tool. The less effort is required for customers to perform a desired action like subscribing, the better. This tool streamlines subscriptions to your marketing list down to a single step, a process built to make that list grow fast.
Try it
This functionality can be on your website today. Contact Optimum7 and we will get this tool set up for you.
Questions?
We can help you determine which functionality is best for Shopify, Bigcommerce, Volusion, VTEX, Magento, 3d Cart, Wordpress / WooCommerce, Opencart, Episerver, Oracle ATG and any Custom Cart.
Contact us today with any additional questions you may have about our functionalities.