This functionality will allow users to browse through all of the sellers of a specific product on your site. The user will then be able to filter or sort the results by a variety of options including, best priced, most relevant, most viewed, etc.
---
Compare Offers from All Sellers Functionality
Online shopping certainly has its advantages: large variety, low prices, and everything available at the click of a mouse or a touch of a finger. However, online shoppers typically enjoy shopping around - sifting through the variety of products and brands to find the lowest prices possible. This is wonderful if your online store offers the lowest prices, and with Optimum7's Compare Offers From All Sellers functionality you can show them!
Who is it for?
This functionality is perfect for online stores that sell products that are sold elsewhere on the Internet or businesses that sell similar products from multiple brands. If you are a wholesale distributor and a bunch of other Ecommerce stores sell the same products as you or you offer same products made by different manufacturers, then this functionality allows you to display comparable prices directly on your website.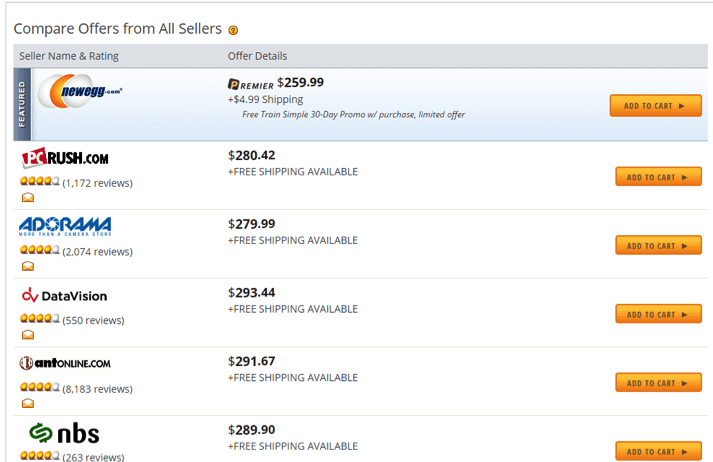 ---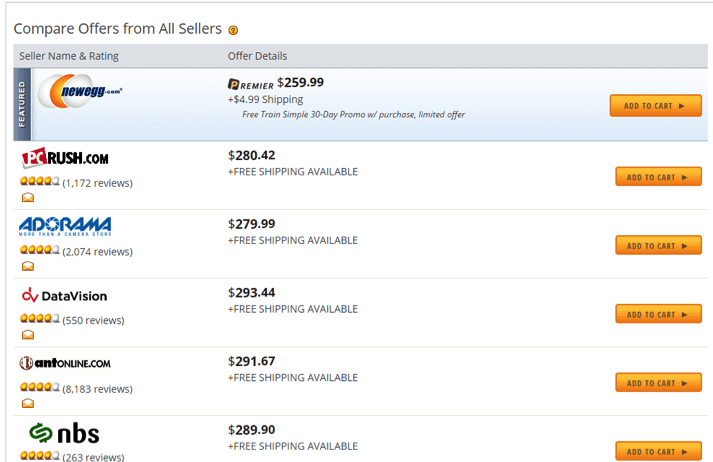 What Does It Do?
Users can use this functionality to filter and sort the comparable price results for specific products based on a variety of options, like: best price, most relevant to the search, most viewed, and more. When users see the product they want to buy, they can add the products they want to their online shopping carts. This functionality can display brand name, price, and additional product description.
Compare Offers from All Sellers Functionality Benefits
Shopping online is great because there is so much variety and it's easier to shop around for unbeatable prices; however, it takes time to do this on your own. Make it easy for your store's customers by providing them with this handy Compare Offers From All Sellers functionality from Optimum7! The benefit of this functionality is convenience. Also, it encourages shoppers to buy from you when you offer the lowest prices for the items and/or brands they want.
---
The Difference Compare Offers from All Sellers Functionality Makes
This functionality is a time saver and boosts conversions for your online store. Without it, customers must resort to searching for low prices on their own.
Try it
This functionality can be on your website today. Contact Optimum7 and we will get this tool set up for you.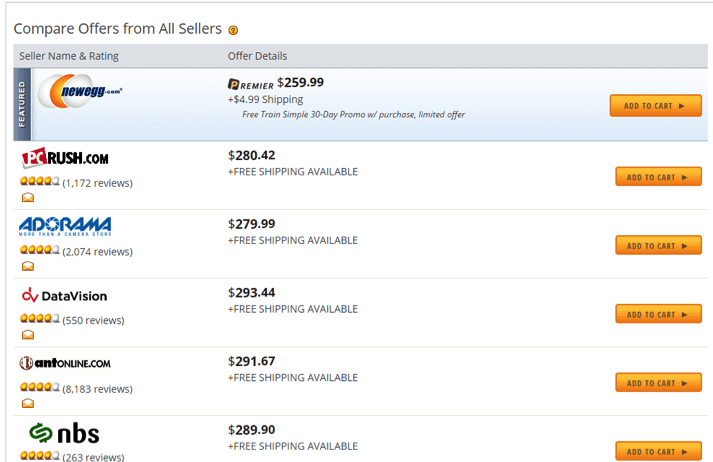 Questions?
We can help you determine which functionality is best for Shopify, Bigcommerce, Volusion, VTEX, Magento, 3d Cart, Wordpress / WooCommerce, Opencart, Episerver, Oracle ATG and any Custom Cart.
Contact us today with any additional questions you may have about our functionalities.