This gamified exit extension makes your users believe the deal they are getting is of a greater value. It shows customers an opportunity to "win" a discount on a spinning wheel, which increases the perceived value of the promotion. You can offer customers a chance to play this game just as they are about to exit your website, which is an incentive to stick around longer as they find out whether or not they won. Administrators can trigger these popups based on rules, algorithms, customer profile etc. This is a fun and engaging way to increase your conversion rate.
---
Advanced Exit Intent Pop-up
Administrators can create a chance for customers to win a coupon with this functionality. The spinning game wheel can be made to appear when a customer takes action to leave your website. Increase the perceived value of your promotions by making the customer "win" the discount on a spinning wheel.
Who is it for?
This gamified promotion would serve a wide range of eCommerce companies. The game-like nature of the popup that offers customers a chance to "win" the coupon makes it work well with brands that go for a fun and playful vibe. It naturally creates suspense about whether or not the customer will win a discount. The result is that the recipient will see the promotion as more valuable.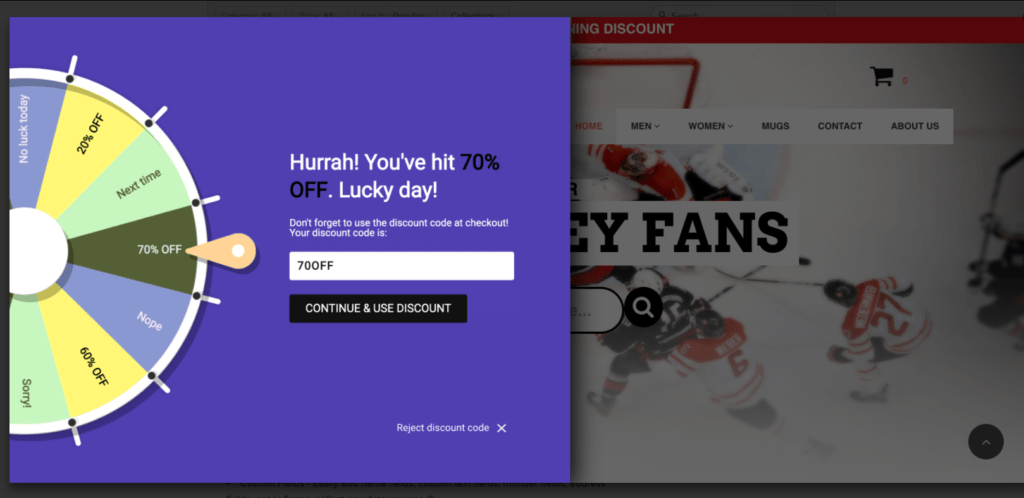 ---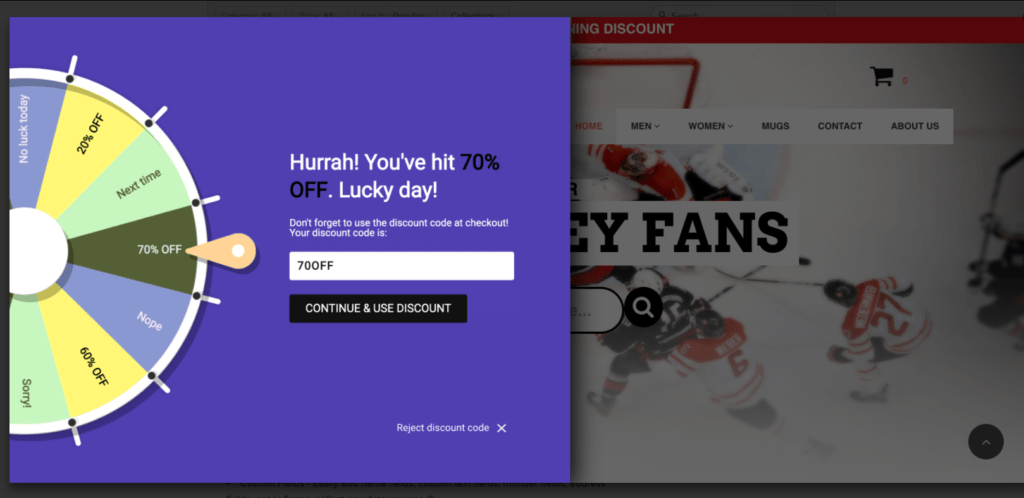 What Does It Do?
Instead of a traditional coupon that simply pops up and displays a discount, this one gives them a chance to "win" the discount on a spinning wheel. This will increase the perceived value of the promotion in the mind of the customer. It is the difference between someone simply handing you a coupon, or giving you a chance to try winning one. The administrator can choose from multiple ways to trigger the appearance of the promotion. One method is to activate it by intent to exit, which is a good method for desktops. For mobile, you can activate the popup when the user scrolls away. 
Advanced Exit Intent Pop-up Benefits
The benefit of this functionality is that it creates a more fun, interactive environment for your website. It retains customers and website visitors and creates suspense about whether or not they will receive a discount. Discounts naturally incentivize purchases and this one will be particularly attention-grabbing. Any discount that is simply given to a customer won't feel as valuable as something they see as a prize. This game-show like wheel will make your promotions more appealing to customers, thus making them more likely to use it. Your business wins when the customer spins.
---
The Difference Advanced Exit Intent Pop-up Makes
Other eCommerce companies that used this functionality saw a bump in their metrics when using a game-like popup versus a more traditional promotion. Stop wasting money on popups your customers don't like and ignore. When you fill your website with more engaging content, you decrease your bounce rate and get more conversions. When there is a game on your site, you tell the customer something about your brand's culture and give them a reason to make a purchase.
Try it
This functionality can be on your website today. Contact Optimum7 and we will get this tool set up for you.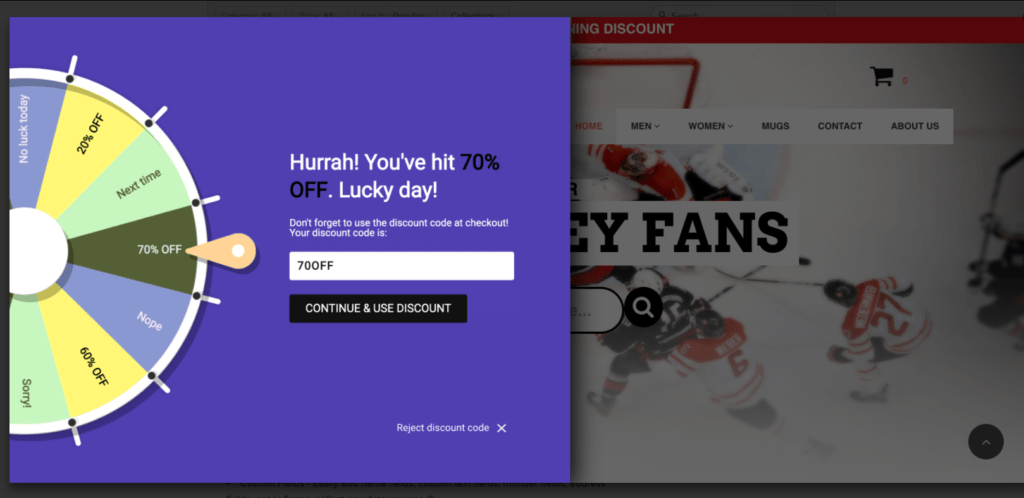 Questions?
We can help you determine which functionality is best for Shopify, Bigcommerce, Volusion, VTEX, Magento, 3d Cart, Wordpress / WooCommerce, Opencart, Episerver, Oracle ATG and any Custom Cart.
Contact us today with any additional questions you may have about our functionalities.