There are many important features to consider when building a successful eCommerce site. In this blog post, we will outline the most important ones and explain why they are vital for your eCommerce store.
User-Interface Fundamentals
Easier Usability
Customer Relations and Trust Building
How Do Functionalities & Features Affect Your eCommerce Performance?
A well-designed and thoughtfully created eCommerce website can make all the difference for your business. An eCommerce business with features that help its customers will always destroy competition. Look at Amazon for example, their website's visual design is not the best but the site's features and functionalities carried Amazon to the top, leaving eBay and other competitors in the dust.
User-Interface Fundamentals
1. User-Friendly Navigation
The key to helping customers find the products they need quickly is to offer a user-friendly navigation system. In fact, the importance of user-friendly navigation on an eCommerce website cannot be overstated.
Good navigation is the key to a successful online shopping experience, and it can make the difference between a customer returning to your site or taking their business elsewhere. When designing your eCommerce website, focus on creating a user-friendly navigation system that is easy to understand.
Organize your products in an intuitive way, and use clear and concise labels for each category. Products should be logically categorized, with the most popular categories listed first.
Additionally, make sure that your search function is robust and easy to use. By making your website easy to navigate, you will encourage customers to stay on your site and make purchases.
2. Mobile-Friendly Features
In today's world, it is essential to have a mobile-friendly website.
With the vast majority of people now using smartphones and tablets to access the internet, it is more important than ever to have a mobile-friendly website. Mobile-friendliness is no longer a nice-to-have feature; it is an absolute necessity.
Make sure that your eCommerce website is designed to be responsive and easy to use on all devices. Customers should be able to browse and purchase products on your site regardless of what device they are using. If your site is not mobile-friendly, you will lose customers and sales.
3. High-Quality Product Images
It is more important than ever to have high-quality product images on your eCommerce website. Studies have shown that customers are more likely to purchase a product if they can see clear, detailed images of it. In addition, good product photos can help to build trust with potential buyers and create a sense of professionalism.
4. Great Footer Menu
Your website's footer is an often-overlooked area that can be very useful in helping customers find your top products and services. A simple list of links to your most popular products and pages can help visitors quickly find what they're looking for, and it can also help search engines index your site more effectively.
If you have a lot of content on your site, you may also want to include a search box in the footer so that visitors can quickly find what they're looking for. Taking a few minutes to optimize your footer can make a big difference in the way customers interact with your site.
5. Multilingual Content
If you're running a website that's aiming to reach a global audience, then one of the most important things you can do is to make sure that your content and website are available in multiple languages.
Having your site translated into different languages will make it much more accessible to people from all over the world, and it'll also help you to rank higher in search engines for international keywords.
Of course, simply providing a translation isn't enough – you also need to ensure that visitors can easily change the language of your site so that they can understand your products and services. The best way to do this is to use a plugin or add-on that will automatically detect the user's preferred language and display the relevant versions of your pages.
Better Usability
6. Site Search
eCommerce site search is an essential component of any eCommerce business, providing website visitors with the ability to quickly query your database and pull up the answers they need. With these search engines, users can easily look up information about your company and products, making it easier to find what they are looking for and purchase items from your eCommerce website.
When implementing a site search to your website, tools like the Algolia database will provide the framework and infrastructure that you need. They will allow users to narrow results as they search for products while providing a reasonable number of matches.
eCommerce site search is a crucial part of the customer journey, and optimizing it for accuracy and efficiency can make a big difference in your conversion rate. With this in mind, eCommerce site owners should improve their eCommerce site search engines so that they function flawlessly over time, and to keep it easy for customers to find what they need.
7. Year Make Model (YMM) Finder Feature
The Year Make Model (YMM) functionality is a great way to help your customers find the exact products they're looking for. By allowing them to choose from three related categories (such as make, model, and year), they can easily find items that meet their specific needs.
This makes YMM particularly ideal for businesses that sell cars, trucks, motorcycles, boats, and automotive parts.
Not only does this functionality make it easier for your customers to find what they need, but it also helps to increase sales and customer satisfaction. So if you're looking for a way to give your customers a better shopping experience, consider implementing YMM on your website or online store.
8. Preorder and Reserve Feature
The preorder and reservation functionality enable users to pre-order highly anticipated products before they are released. Orders are then automatically processed on release day and users are sent a notification email informing them that their order has shipped. This allows store administrators to gauge product interest and demand for highly anticipated products and encourages users to order ahead of time.
9. Ship to Multiple Shipping Addresses Feature
The Ship to Multiple Addresses Feature allows customers to split the items in their shopping cart into multiple packages that can be shipped to multiple, distinct addresses via separate shipping methods.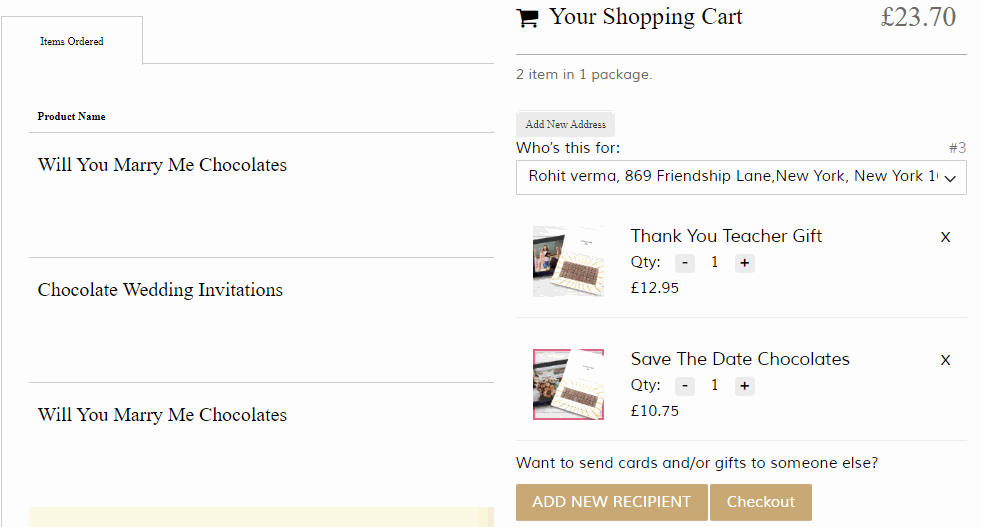 Why make 2 separate orders when you can split the order's delivery address at once? Optimum7's Ship-To-Multiple Addresses Functionality is perfect for stores that want to allow customers to split up items in their shopping carts into multiple packages.
10. Part Builder Functionality
Customization is an important part of a product that you sell online. But the process can be quite costly and risky if the specifications are not received correctly.
Part builder functionality tailored specifically for your online store enables you to display customized part options to customers, more so for manufacturing and industrial parts. Your customers can modify an existing selection depending on their needs, and give you clear, systematic information and specifications, instead of making an hour-long phone call with a salesperson to get the right measurements and specifications.
11. Always Visible Sticky Cart
The 'Always Visible Sticky Cart' feature is one of the most essential shopping cart features that an eCommerce website can have. This feature allows users to see their shopping cart totals at all times, without having to go to the checkout page. This is extremely useful for keeping track of what you have in your cart, and also for seeing how much your total is running up to. Not only does it save time, but it also helps to prevent accidental overspending. The 'Always Visible Sticky Cart' feature is definitely a must-have for almost all eCommerce websites.
12. Pop-up on Exit Intent Feature
An exit intent pop-up is a message that appears when a visitor goes to leave your website. It's an important tool for ecommerce websites, because it allows you to recapture the attention of someone who is about to leave without making a purchase. Exit intent pop-ups can be used to offer a discount, promote a new product, or simply to say thank you for visiting the site. They're also relatively easy to set up, so there's no excuse not to have one on your ecommerce website. If you're not using an exit intent pop-up, you're missing out on a valuable opportunity to increase sales and engagement with your visitors.
Customer Relations and Trust Building
13. FAQ for Products
User-generated content is a valuable asset for any eCommerce store. In addition to providing potential customers with an honest assessment of your products, it can also help to improve your store's SEO and increase sales. One way to incorporate user-generated content into your store is by adding a section of the most frequently asked questions by customers.
This section can help your store in a number of ways. First, it can increase the number of sales by answering your customer's top pre-sales questions about your products.
Second, it can reduce the amount of time your customer service has to spend on answering questions about products, before and after the purchase. Third, it can improve your store's SEO by providing valuable keyword-rich content.
Finally, it can create a sense of community around your brand, helping to build loyalty and repeat business.
14. Product Reviews
User-generated content in the form of product reviews and ratings is one of the most important elements of an eCommerce site.
This type of content provides social proof to potential customers that a product is worth their time and money. On Amazon, for example, customers are able to rate and review products, which are then displayed below the product descriptions and sponsored items.
This allows potential buyers to quickly see what others think of a product before making a purchase. Furthermore, it provides an incentive for sellers to provide high-quality products and excellent customer service, as poor ratings can dissuade others from doing business with them.
In short, user-generated content is essential for eCommerce sites, as it helps to build trust between buyers and sellers.
15. Fast, Reliable, 24/7 Customer Service
Excellent customer service is essential for any business that wants to retain its customers and grow its reputation. In today's 24/7 world, that means making sure your customer service is available around the clock.
Customers should never feel like they're in the dark when they have a question or problem; they should always be able to reach someone who can help them. Having customer service available 24/7 shows your customers that you're committed to their satisfaction and that you value their business. It's a simple way to build loyalty and goodwill – and it can make all the difference when it comes to growing your company.
You can include a 24/7 customer service chatbot as one of the features on your eCommerce website for those who need it. Plugins like Zendesk will help make this easy and affordable with their small fees.
16. Order Tracking
Order tracking provides customers with live updates on their orders and is essential for a smooth shopping experience. Once a customer has placed an order, the number one question on their mind is, when will my order arrive?
By providing a simple way for them to check the current status of their order on your website, you can keep them informed and help to avoid any potential frustration or confusion.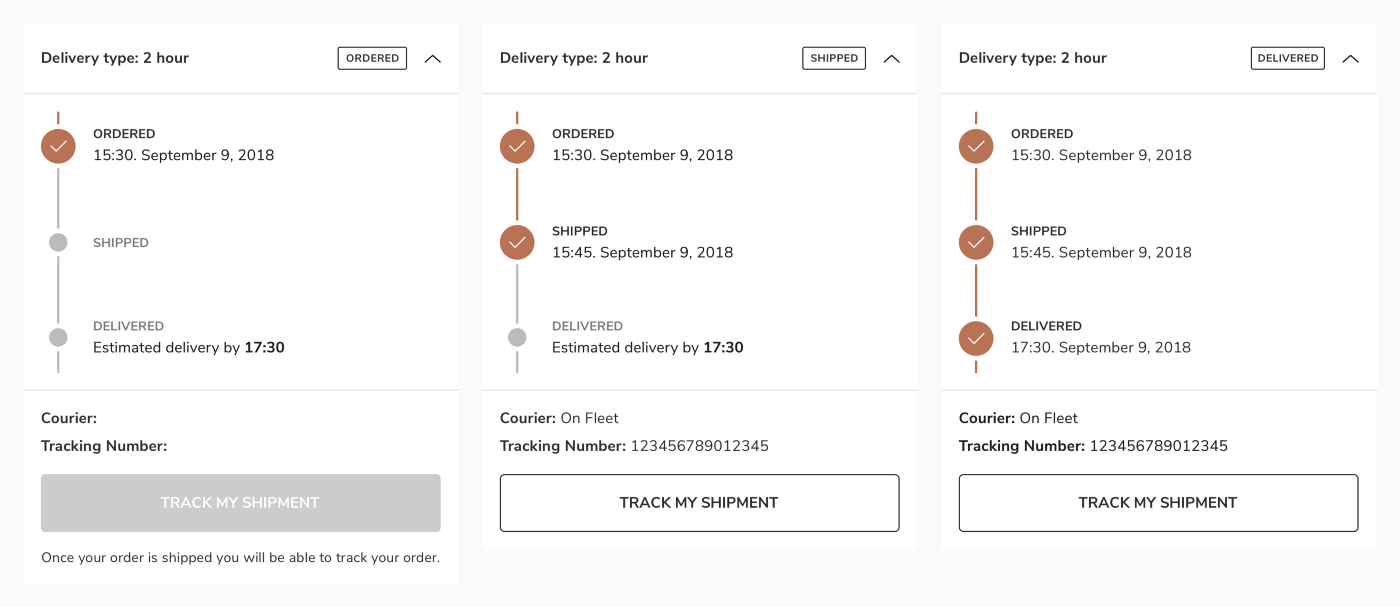 Sending automatic email updates to customers as their order moves through the fulfillment process is one of the best ways to handle this. By providing clear, up-to-date information on orders, you can create a positive shopping experience by showing your customers that you value them.
17. Valuable Email Opt-In
Email marketing is a powerful tool that can help you boost sales and build loyalty among your customer base. An email opt-in form on your website allows visitors to sign up to receive your marketing messages, and it's a great way to keep them informed about new products, special offers, and other important news.
Including an email opt-in form on your website is a simple way to collect leads and grow your audience, and it can be a valuable asset for your business. Be sure to include a strong call-to-action so that visitors know what they need to do, and make it easy for them to sign up by providing a simple form.
Conclusion
Now that you understand the importance of these 14 features, it is time to take your eCommerce business to the next level. At Optimum7, we are experts in building successful eCommerce websites.
Contact us today and let us show you how our team can help increase sales and grow your business online with our custom-built eCommerce solutions.