The Advanced Product Comparison functionality will allow users to select products that they wish to compare. As a user browses category and product pages on your site, they will be able to add products to a comparison list. When the user views the list of products they have selected to compare, they will see each product and its details side by side allowing them to make quick inferences as to which product suits them best. When the user has made their selection, they will be able to add the item to their cart directly from the comparison page
---
Product Comparison Functionality
Provide better customer service on your Ecommerce store by letting customer compare products side by side. Customers add products to the comparison page, and then check details against each other. When customers have chosen which product is better, they can add it to their cart directly from the comparison page.
Who is it for?
Ecommerce stores that sell similar products such as clothing, shoes and furniture can benefit from this feature. You can increase conversions and sales when customers compare products because the detailed information makes shoppers more confident in their choices.

---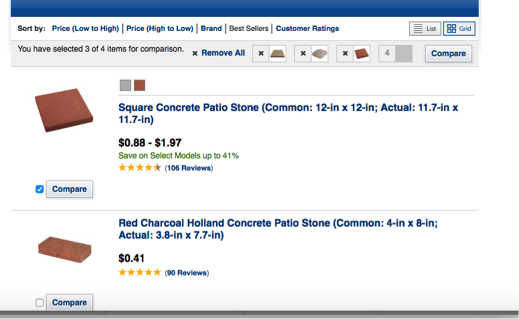 What Does It Do?
Show customers a side by side comparison of two products on your Ecommerce store. For example, let's say you sell coats. Customers can look at the cut, color and style of two coats, and see which one they prefer. Customers can add the product they prefer directly to their cart from the comparison page.
Product Comparison Functionality Benefits
Encourage customers to buy materials from your eCommerce store by making them feel confident in their buying decisions. When shoppers can see two products side by side, you are encouraging them to think past the sale. When they are choosing which product to buy instead of whether or not to buy a product at all, they are closing to closing the deal.
---
The Difference Product Comparison Functionality Makes
Comparing products can be a fun part of the shopping experience for your customers. It lets them make a better decision with more detailed information, and thus more likely to complete their purchase. This can lead to more revenue for your Ecommerce store.
Try it
Add the product comparison functionality to your website by calling 866-848-6072 or contacting us online.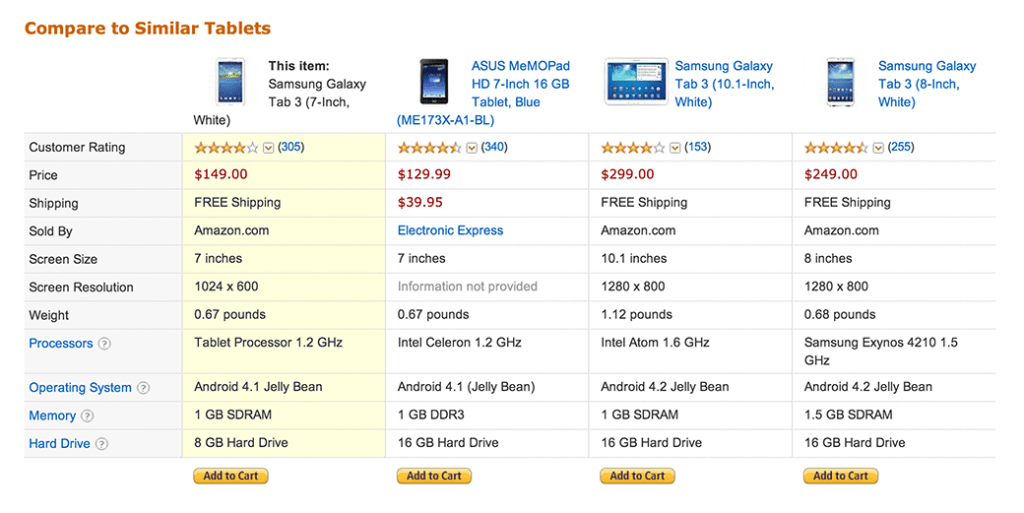 Questions?
We can help you determine which functionality is best for Shopify, Bigcommerce, Volusion, VTEX, Magento, 3d Cart, Wordpress / WooCommerce, Opencart, Episerver, Oracle ATG and any Custom Cart.
Contact us today with any additional questions you may have about our functionalities.