How to Design a Real Estate Website That Converts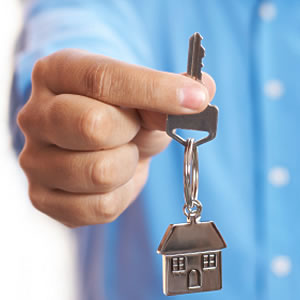 About two months ago, my boyfriend and I began the search for a new place to call home. We had an idea of what we wanted- the number of bedrooms, the general location, our budget, etc. Like most consumers of our generation, our search began on the Internet.
Honestly, I have no idea how people used to find places to live twenty years ago. We must have searched and called over fifteen different prospects, and actually visited about ten more. I can't imagine doing that without the technology we have today.
While searching, I was shocked to see how many absolutely terrible real estate websites were online. The most basic elements seemed to be missing. But of course, what is obvious to a trained web designer isn't always obvious to a real estate agent. And so, I've decided to dedicate this post to any real estate agent looking to improve conversions on his or her website.
What is important?
As a designer, I often feel the best way to design a site is to first put yourself in the shoes of the user. What is he or she looking for? How does your site handle his or her needs? What is the likelihood that your site has the information they are searching for? And how easy is it to find on your site.
These are just a few questions to ask yourself when building a real estate website – or any website for that matter. Luckily, since I had the opportunity to literally become the user and search for a new place to live, I can give you a recap of my experience and what I was looking for in a reliable realty site.
Images
When searching for a new home, one of the most important features users are looking for are images. Potential homebuyers and renters want to see what properties look like, inside and out. If your site already has plenty of images, ask yourself how useful these images are. Do they take a long time to load? Are they large enough for a user to see what the property actually offers? Is it easy for your users to find corresponding images when viewing a property online?
If you are still questioning the importance of images on your site, check this out:

Above is a screenshot from the "apts/housing for rent" section in Craigslist. When searching, users have the ability to completely filter out listings without pictures.
What does this tell us? If you don't have images, most users won't even view your listing, much less consider it.
Location
As I mentioned earlier, one of the requirements that I had when moving was the general area I wanted to stay in. It is important that users can easily filter to find the neighborhood/zip code/city they are looking to move to.
But this may not be news. Of course users have a location in mind. And your site probably already has this functionality.
But how intuitive is it? Does it give you examples when you search, like this site?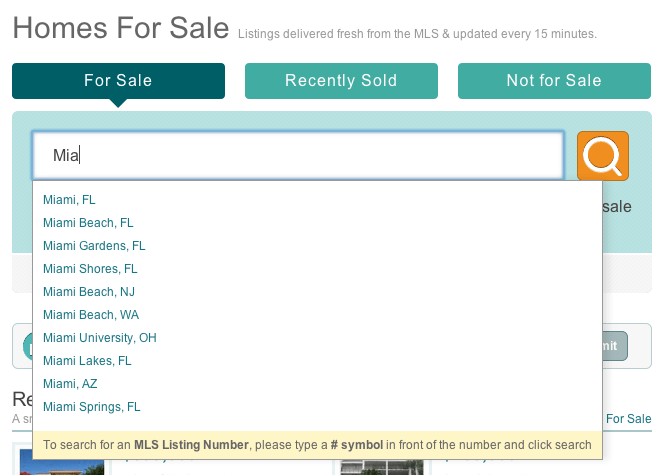 Does it remember your users' last entry when they return to the site, like Zillow?

Page Speed
Most users today are very impatient. They will not wait long for pages to load, on their desktops, tablets, or mobile phones. As I discussed earlier, if your images are too heavy, they are next to useless. The same goes for any other content on your site. If your contact form takes too long to load, I (as a user) will take it as a bad omen and move on to your competitors' sites.
Responsive Design/Mobile Apps
As you know, I'm a huge supporter of responsive web design. As a realist, I know that it is not a one-size-fits-all solution. Real estate websites can sometimes be the exception to the rule, and other methods of reaching mobile users may be in order.
Whichever option you decide to reach your mobile audience, what is most important is that you do reach them.
I may suggest a mobile application for larger real estate sites (like Zillow or Realtor.com) but for smaller agencies, responsive design may work just beautifully. When building a site or application for your non-desktop users, you will need to take certain things into consideration. For example, does your site display a map? How easy is it for the user to figure out where the property is when searching from a tablet or mobile phone? When choosing favorite listings, is it easy to login to an account? To register?
Consistency
A home is a major investment for most. The average person doesn't take the buying/renting process lightly. It is important to make your users feel comfortable and safe while using your site. One way to do that is to make sure your branding is consistent across the board. You should have a single logo (with appropriate variations) and a single color scheme. If a user finds your site and notices a disconnect (broken link), they will often become suspicious and abandon your site.
Testimonials
What do your clients say about you? Hopefully, most (if not all) of your reviews mention your excellent customer service, dedication, and expertise. Why not let your happy clients speak for you? Ask for reviews, ratings, references, and testimonials and add them to your site – with names and headshots. This will help further establish your legitimacy and authority, and encourage potential clients to contact you.
Agent Information
Just like adding testimonials to your site makes your users more comfortable, so does adding agent information. It is important to add each agent's name, title, phone number, email address or contact form, as well as a headshot. This allows your user to establish a more personal connection.
Accuracy
There is absolutely nothing more frustrating than searching for a new home, finding a great listing, scheduling an appointment, and meeting a real estate agency only to find that the desired listing is suddenly "unavailable." Unfortunately, this is exactly what happened during our search. We found an excellent property on a site called Rent1Sale1, placed a phone call and were assured the property was indeed available at the listed price, and scheduled a walkthrough for about two hours later. When we visited the office, we were told that the property wasn't available, was never available, and no properties in that community were available at all.
Although the look of the website, the inconsistency in branding, and the name that didn't seem to make sense should have been a tip that this was not a company worth trusting, we decided to give it a shot. I'm actually glad that we took part in this terrible experience, because it only confirms what I've always believed: you can tell a lot about a company by its website and branding.
Price
Most users have a set budget. Although we'd all love to be millionaires, the fact of the matter is that users are limited in price. If your website doesn't allow users to filter by price or monthly rent, they will most likely become frustrated and continue on with their search elsewhere.
Efficient Contact Form
One of the most important features you should have on your site is a contact form. It should be easily accessible no matter which page your user is on, require as few fields as possible, and be tracked through Google Analytics. In doing this, you make it easy for users to contact you, acquire valuable leads, and gain a greater understanding of what your target audience is looking for.
The Takeaway
My intention is that you read this article and use the following sections as a mini-checklist. If you find that you are missing a few (or even more than a few) of these elements, and are beginning to feel overwhelmed, it may be time to contact Optimum7.