Optimum7 Attends Information Technology Analytics Group Hosted by FIU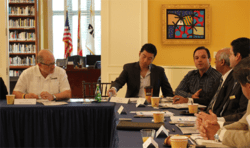 On March 29th, Duran Inci, Co-Founder and COO of Optimum7, contributed to Florida International University's (FIU) Information Technology Analytics Group held at the Ronald W. Reagan Presidential House on the main campus. The group discussion determined current and future workforce needs, identified critical occupations and skill sets, reviewed data that state policy makers will examine when making workforce training decisions, and focused on ways to better align education and workforce training programs to meet the needs of researchers and developers in the growing information technology industry in Florida.
"FIU's efforts to bridge the gap between supply and demand in IT education and the real world IT workforce is commendable," said Duran. "I believe that what we are doing with the help of FIU is definitely a step in the right direction. The big question is how we can make Miami, Florida, the next Austin, Texas… the next technology and IT hub."
Representatives of Workforce Florida, International Business Machines (IBM), the Haas Center at University of West Florida (UWF), member institutions of the Life Sciences South Florida consortium, Florida Atlantic University (FAU) and of course, Florida International University (FIU) participated.
"The problem is that the information technology industry is growing but the industry's need for individuals skilled in research and development is not being met by recent college graduates," said Duran. "Students graduate from the computer sciences department but it does not make them programmers or software engineers. The other issue is that talented students graduate and move to California or New York because they can get a job right away."
The group reached a consensus that a) students are not learning the skills they are supposed to be learning in college and b) there is a "brain drain" which means Florida businesses do not have access to the very talent needed to drive success. The collaboration shed valuable insight on the future of local IT industry growth, economic development, and collegiate education to enrich and better serve the community. The group's input is critical to help inform policy makers on how workforce investment funds could best support the creation of a pipeline of skilled professionals for life sciences industries.
"We were very encouraged by the response we received from IT industry leaders and others in the local business community," said Dr. Irma Becerra-Fernandez, FIU's interim Vice President for Engagement. "This kind of dialogue is critical to ensuring that our students are entering the workforce with the skills they need for the kind of high-tech careers our local IT industry demands. We look forward to continued collaboration with this group of key partners."
For more information about this topic, or to schedule an interview with Duran Inci, please call (305) 477-8960 ext. 211.