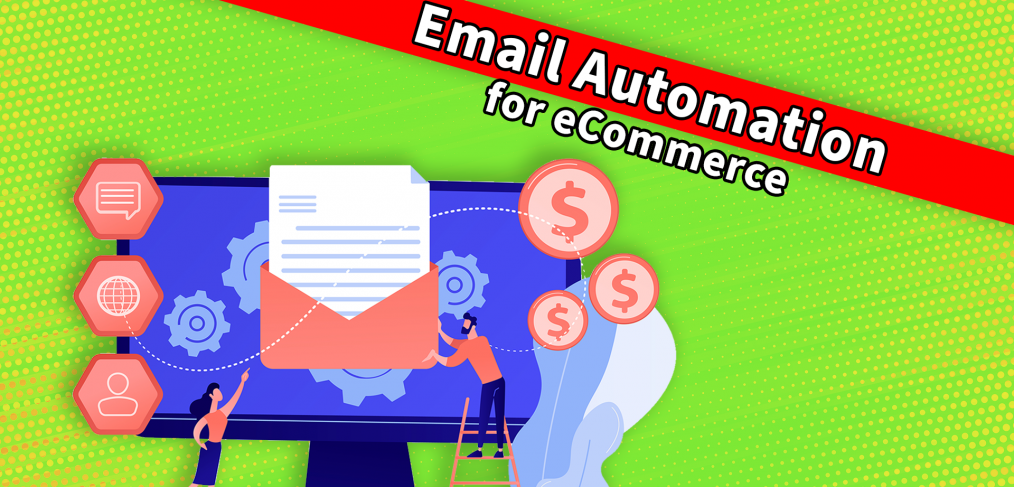 Email Automation for eCommerce Marketing
An email will always convert higher than paid or sometimes direct traffic. It will remain one of your highest converting channels. When managing your eCommerce customer base, you need email automation.

Email Marketing Automation Basics
Why is having automated email flows important?
Automated email flows cover an important aspect of online marketing: actual nurture. If someone finds your website, you're halfway towards a conversion. They need to actually make the purchase.
Most people don't purchase on the first click, especially if you're having a higher price point item. They do research, compare to other brands, or don't feel ready. You'll lose sixty to seventy percent of your customers at this point of consideration.
Emails counteract this problem. Schedule messages such as welcome flows, abandoned cart notifications, and thank-you email flows. They help with your customer lifetime value, average order value, and more beyond the first direct touchpoint in that initial sale.
The average eCommerce conversion rate is around 3%. If you drive one hundred people to your site, 97 leave the site without buying from you.
How are nurturing those 97 individuals to then purchase a product? Do you have a lead magnet in place, any type of incentive to first capture their email?
If you do not have a lead magnet in place, then you can't even implement email automation. You can only create an abandoned cart or browser abandonment feature. Even then, you need that email first in your database.
How can you incentivize new visitors to your site to give you their email addresses? These emails allow you to take that potential customer from the discovery to consideration phase, to the actual purchase. If you're not incentivizing these individuals to give you their information, you're missing out on potential customers. Retargeting and nurturing specific individuals can earn more revenue.
Best Automated Email Flows for eCommerce
What are some flows that you've seen, some of the ones that aren't just your standard welcome that show ample revenue?
Customer Win-Back Email Flows
Email automation tools such as Klaviyo, the best tool for eCommerce, observe from a specific user or customer level. They can also assess what their purchase frequency is.
From that, the marketer can see when their last purchase was and when that next purchase should occur. If that purchase does not occur, this will then automatically trigger an email that is going to be sent out to this individual incentivizing them to come back and complete the purchase.
This tells you about potential revenue left on the table when you lack the data. Klaviyo this insight, especially from a specific customer level, as to how often and how frequently an individual is actually purchasing and when a business risks losing them.
Email automation also helps you calculate your customer lifetime value from a specific level. The software integrates directly with your eCommerce store. The number one flow generates revenue that the marketers didn't recognize.
The Automated Cross-Sell Email Flow
This flow is integrated directly into your website. Marketers have the ability to identify what products an individual was purchasing, and its category. As a business owner, what products are frequently purchased together, you know what products go hand in hand essentially. This is your opportunity to automate this flow and trigger this flow. When someone purchases this particular product or from a particular category they will see an email offering products that supplement or complement that product.
That powerful flow will generate a lot of conversions. If you're not actively going out to sell to them, you're losing out on money. You're just waiting for these individuals to come and buy from you. This tool is going to give you the ability to sell to your existing customers.
The workflow is automated. In the past, you had to implement the process manually to build these individual campaigns. With the one-time setup, you invest time and resources into that initial period. The initial setup will definitely start to generate additional revenue.
Continuously monitor these flows. What are the open rates from emails A, B, or X? How can you optimize the increase? These include both the open rates, click-through rates, and conversion rates. How far can you take that flow?
Suppose you send out two abandoned cart emails. One is sent out four hours after that person abandons the cart, then another one is sent out 20 hours after that. The first email generates $15,000 in lost revenue and email two is generating $8,000 in lost revenue.
Then you implement a third and see if you're missing out on another $4,000. You squeeze out all the money you can possibly get by taking these email flows throughout the process.
The best part is you are not sending spam to these individuals. At the end of the day, if they complete a purchase, they fall out of that funnel.
eCommerce Email Marketing Tools For Lead Nurturing
At Optimum7, ninety percent of the clients use Klaviyo. They see phenomenal results for revenue and conversions.
Conversion rates in 2021 are extremely high. Email generates great conversion rates. That is why it is absolutely crucial in 2021 for your eCommerce store to have email nurture and automated flow in place. You generate more revenue and increase your conversion rates.
Conversion rates in 2021 also help with SEO visibility. Thus, email automation will supplement and help out your SEO. Integrated items work together. Each of your strategies from a technology standpoint — the integrations, tools, and marketing efforts — are integrated into one.
The Optimum7 marketers are always happy to expand on the subject. Reach out if you have any questions on email automation.