BigCommerce to Shopify Migration


Decided to switch eCommerce platforms from BigCommerce to Shopify?
Effortlessly migrate all of your sales-related information like orders date, order ID, quantity, subtotal, tax price, order comments, coupons codes, gift card information, discount amount, and reviews onto Shopify in a matter of weeks. It's possible to transfer products from BigCommerce to Shopify as well as integrating your BigCommerce store onto another eCommerce platform yourself. However, the time it takes to create a duplicate shop and ensure the accuracy of all the SKUs, product variants, descriptions, URLs, and the like are exact and free of 404 pages could all be applied elsewhere. Optimum7 specializes in seamlessly migrating BigCommerce stores to Shopify for you error-free.
What kind of data can be migrated from
BigCommerce

to

Shopify

?
Supported Data
Products

Migrate all of your product images, descriptions, product attributes, SKUs, and products. Including all the variants such as weight, pricing, etc. onto Shopify. Other sales-related information such as the quantity and price can all be migrated from BigCommerce to Shopify

Product Categories

Two important SEO attributes that are critical to any eCommerce website are the meta-title and description. Equally as important are the categories description and category images. These are all included within the migration which makes our migration process very SEO friendly.

Customer Order Information

You'll also be able to migrate invoices. With this information, you can analyze demographics and target the right pool of potential buyers.
You'll be able to get the order date, order status, product price, quantity ordered, tax price, shipping price, and order comments in addition to the customers' name, email address, phone number, and company name.
Keep track of all current and previous promotions. Gift cards, coupon codes, Coupon from Date or Coupon to Date, Uses Per Coupon, Uses Per Customer, as well as the kind of discount, discount amount, and total amount spent, may all be moved to BigCommerce.

Product Reviews

All of the information that's related to products reviews will be migrated over to the Shopify platform. Fields such as Created Date, Rate, User name, Comment, Product, and Title are all part of the migration process.

Additional Options

Migrate your 301 redirects during the eCommerce migration to avoid loss of or decrease in organic traffic.

Re-organize your inventory to a proper parent/child listing by bulk editing your category names and descriptions without HTML tags. You'll also be able to add custom functionalities that will improve shoppers' buying experience.

Do all of this and safeguard your product images URLs.

For blog posts, migrate the category descriptions along with all of the images and product descriptions related to each post.
Type of Data Migrated
Categories and category images
Product images and descriptions, product attributes, product variants, SKUS
Invoices, orders, coupon codes, and other sales-related information
Customers' contact information
Additional Options
Safeguard your product images URLs
Add custom functionalities that improve shoppers' buying experience
Re-organize your inventory to a proper parent/child listing
Bulk edit your category names and descriptions without HTML tags
301 redirects during eCommerce migration to avoid loss of or decrease in organic traffic
How It Works
1.

Request a Quote from Optimum7

2.

Provide All Shopping Cart Details

3.

Choose All the Data You Want to Transfer

4.

Optimum7 will Migrate the Data

5.

Review & Enjoy Your New Store!
Ecommerce and Shopify Marketing
Switching platforms or websites might be potentially risky for your search engine rankings. Most marketing experts are very cautious while working on these migration projects.
With thousands of product pages on your Shopify site, these migrations must be executed carefully. If the migration is done incorrectly, it can result in multiple 404 error pages. These 404 pages could cause you to lose your rankings and authority within days and destroy years of hard work.
Our specialists have compiled a list of critical data you'll need to migrate from the BigCommerce platform to Shopify. With the guidance of our advanced execution, you can safely migrate your store to a new and improved platform while retaining all the SEO ranking authority you've built up over the years. We know all the technical details of Shopify server settings to implement 301 redirects the correct way. (Htaccess, apache, admin settings etc.)
Optimum7 staff is very well versed in Shopify PPC (Paid Search), Shopify SEO (Search Engine Optimization), Amazon, Ebay, Jet, Walmart, Shopping Comparison Engines, Inventory Management Systems, CRMs and all levels of integration.
Suggested Functionalities
We have already migrated more than 2,000 eCommerce stores!
BigCommerce vs. Shopify
BigCommerce
Pros
24/7 Customer Support
High Speed & Security
Built-in Marketing Features
Good Customer Service
Cons
Platform and Credit Card Fees
Default 5-Step Checkout Process
Limited Email Subscription Lists
Locked-In from Migrating Carts
Shopify
Pros
24/7 Customer Support
Unlimited Bandwidth
Hosted Cart with an SSL
Immense Ecommerce App Store
Cons
Restricted Access to Checkout Pages
One Page Checkout is Nonexistent
Not Good for International Use
100 Product Variations Limit
Why migrate with Optimum7?
Optimum7 provides a fully automated migration that doesn't require any programming skills on your part. Through our services, you're guaranteed to achieve an effortless and successful switch, free from bothersome bugs and glitches. You'll have a newly established store that will provide the transformation you're looking for with everything in tact.
---
70+ SUPPORTED CARTS
100% UPTIME OF YOUR SOURCE STORE
PROFESSIONAL 24/7 SUPPORT
What Are The Differences Between BigCommerce and Shopify?
BigCommerce Platform
BigCommerce is an eCommerce platform that allows businesses to sell products online. It has a complex range of features and functions, making it suitable for large companies in particular while the pricing policy can be high due to this level of functionality.
BigCommerce provides you the option to choose from 100+ free themes, but it is not as customizable compared to other platforms. You can still make some basic changes to your website with little technical knowledge.
BigCommerce has two main weaknesses: there is no way to preview your product before it's published and the technical support team doesn't work 24×7.
This means that if you have a weekend break, Bigcommerce won't be able to fix any problems until Monday morning. They need some improvements in features like these for sure!
Shopify Platform
With a Shopify store, you don't need to be a web developer or master interface design. The platform comes with 100+ templates that fit different industries such as fashion and food.
These designs are enhanced for professional use at no extra cost while other platforms charge an additional fee for the same features!
You can choose from various interactive themes in your store without any technical expertise required in template customization because of its intuitive user-interface system.
Shopify comes with a lot of features and tools to help you stay ahead as an eCommerce marketer. One example is the fact that they have great 24×7 customer support, which can be reached by live chat, phone, or email.
This lets Shopify store users enjoy peace of mind when it comes to their customer's satisfaction level. Furthering your business growth through automation possibilities is also available thanks to 250+ additional tools from third-party developers being fully compatible with this platform.
Shopify is a platform that provides useful tools to allow for efficient and convenient e-commerce.
The plug-and-play capabilities of Shopify's add ons, such as apps, themes or extensions means no extra time will be wasted setting up new things–an important consideration when working with an online store.
In addition to the intuitive interface offered by Shopify which allows customers to find what they're looking for efficiently in order to maximize sales conversions, its pricing model is reasonable compared with other platforms offering similar services.
Why Should You Migrate From BigCommerce to Shopify?
User-Friendly Interface
Shopify and BigCommerce are two of the most prominent e-commerce platforms on which businesses can build their online stores.
Shopify is known for its excellent user interface that makes it easy to use even for first-time users while Big Commerce requires some knowledge in coding, therefore not so ideal when you want a simple target store.
Customization Flexibility
Shopify is a powerful eCommerce platform that lets you create and edit your own website.
You can choose from 70+ beautiful, professional themes to build the perfect online store for your customers. If required, customize these themes using HTML or CSS code.
With a BigCommerce store, on the other hand, you would need technical skills in order to make design changes yourself but it allows more freedom since customization of coding isn't limited like Shopify.
Cost-Effective Platform
Nowadays, there are many eCommerce platforms available in the market. Some of them offer easy and simple solutions while some others provide scalable features for other purposes like Bigcommerce which is less suitable for beginners due to its complicated interface.
However, if you're looking forward to a one-stop solution then a Shopify store can be your best bet as Shopify stores provide all valuable benefits at an affordable price range with no technical knowledge required from your end!
24×7 Customer Support
Shopify has better customer assistance than BigCommerce. When you ask for help in the Shopify help center, it automatically takes you to related support pages on what your question is about instead of having a separate section and being broad like BigCommerce's which makes it hard for users to search through all the different topics they might need.
Point of Sale Option
Shopify allows you to sell your products directly from the Point-of-Sale system through its POS app. BigCommerce, on the other hand, requires 3rd party hardware for this feature and does not have any built-in integration options with these devices.
Better Page Speed and Faster Loading Time
Shopify is better than BigCommerce when it comes to the average website loading time.
Shopify has an average load time of 1.3 seconds whereas Bigcommerce takes 2.2 seconds on its platform which can affect your chances for conversion if you are a business owner and want people to visit your site more frequently and make purchases online as well instead of visiting offline stores or other platforms that have faster websites with lower prices in-store coupons, etc.,
Enhanced Mobile Experience and Functionality
When you run a business from your eStore, Shopify offers enhanced features and functionality for mobile apps.
Shopify automated collections also have an app that allows viewing customer records as well as handling orders.
BigCommerce is basic when compared to Shopify's features because BigCommerce does not have the same capabilities in terms of their mobile app or POS system (point-of-sale).
Pre and Post Purchase Upsell Functionality (1 Click Upsells)
Shopify helps you increase your revenue in various ways. They have complementary products before and after purchase to boost the average order value of customers on their website.
In comparison, BigCommerce doesn't come with post-purchase 1-click upsells functionality which could help improve sales conversions for online businesses.
Better Pricing Option
Shopify doesn't charge you for any unnecessary features, unlike BigCommerce who automatically charges more based on how much your business is growing.
Which Data Will Be Migrated From BigCommerce Store to Shopify?
If you are migrating data from BigCommerce store to Shopify, the following store data and product data will be migrated:
Products
All of your product data, images, descriptions, meta descriptions, product categories, and other sales-related information such as price, customer details, shipping addresses can be migrated from BigCommerce to the new Shopify store.
Product attributes like weight along with the manufacturer's info are required for migrating onto Shopify.
Product Categories
When migrating your eCommerce website from BigCommerce to Shopify, don't forget the important SEO attributes that are critical to any successful online store – meta description and title.
These should be carefully crafted so as not to disappoint visitors or search engines in the future!
Additionally, ensure you have descriptions for all categories within a category structure along with high-quality images of products throughout too.
Customer Order Information
Data migration of invoices not only allows you to migrate customer data, customer passwords, customer accounts, contact information but also acquire valuable customer data about demographics.
You'll be able to analyze the collected customer data and target potential buyers with tailored advertisements.
Recent data migration includes names, emails addresses, phone numbers company name order date; order status product price quantity ordered tax price shipping price, and comments among others from customers.
Product Reviews
During the migration from BigCommerce to Shopify, all of your information that's related to products reviews will get transferred.
Some fields include Date Created, Rate given by users, shippingUser name who gave it a rating in addition to Product and Title names.
Additional Options
301 redirects are a must for eCommerce migration from BigCommerce to Shopify, as they will prevent loss of organic traffic.
Prior to the initial migration, bulk edit your category names and descriptions without HTML tags so that you can add custom functionalities that improve shoppers' buying experience. Also, safeguard product image URLs, products SEO URLs, and SEO URLs during this time because there may be changes made with these too!
Options For For BigCommerce To Shopify Migration
There are many ways to migrate store data from BigCommerce to Shopify. Here, we will focus on the top three methods that you can choose based on your preferences.
Hiring a BigCommerce to Shopify Migration Agency
If you are struggling to migrate your store data from BigCommerce to Shopify or do not have the time, it is best that you hire an agency that has experience in migrating from BigCommerce to Shopify. An experienced technical team will ensure the data import process goes smoothly for you. When you decide to hire an agency, you can request a free demo migration. If an agency offers you a free demo migration you can understand their approach very well.
Manual Migration with Technical Knowledge
Migrating your data from BigCommerce to Shopify manually can be a one-day task, but it's important to consider that an expert level of technical knowledge is required for the process.
Automated BigCommerce to Shopify Migration
Migrating your website is a long data import process and can be done using automatic tools, services, or converters. By using automated migration tools (migration wizard), the entire migration process from Bigcommerce stores will only take hours to complete without you being involved in the whole data import process.
Why Should You Migrate Data From BigCommerce to Shopify with Optimum7?
Optimum7's automated migration will allow you to effortlessly switch your business from BigCommerce to Shopify, free of glitches and bugs that would otherwise be common.
The final result is a newly established target store with all the features intact while providing you with transformation-ready design options for future updates!
To avoid losing your authority and rankings, you should never execute a migration from BigCommerce to Shopify without consulting an expert. Without the proper guidance from someone who is familiar with both platforms, these migrations can result in multiple 404 error pages within days which could destroy years of hard work.
We have compiled a list of important data you need to have for a smooth BigCommerce to Shopify migration process.
We are experienced in successfully migrating businesses onto different platforms without losing any SEO ranking authority built over the years; we know all about the technical details necessary for an effective transfer with 301 redirects being implemented correctly (server settings, .htaccess file, etc.).
With a team of experts that has years of experience in Shopify migration, PPC, SEO, Amazon, eBay, Jet, and Walmart selling channels to name but a few; Optimum7 is the go-to company for all things eCommerce.
The Things You Should Consider in Post BigCommerce To Shopify Migration Process
To make sure the migrated data is accurate, check store data over. Next, create a test order to ensure functionality on your new site as you want and register both old and new domains.
At the old one, set up a 404 error page or redirect so that visitors can still access some content; finally submit an updated sitemap for Google Search Console's sake.
Glitter Unique BigCommerce Store Migration Case Study
The Objective
When our client Glitter Unique was looking for a new eCommerce platform, we decided to move their current store over to BigCommerce.
As an online storefront that is easy-to-use and simple on the eyes, Bigcommerce would make shopping more enjoyable while also increasing sales through improved user experience.
This means it's easier than ever for customers to find what they're looking for when browsing products or checking out – which in turn makes handling customer volume much simpler!
The Strategy
eCommerce Data Migration (Store Migration)
Template Customization
BigCommerce Data Migration
We first compiled critical data needed to move. Then we pulled all the data and made sure not to leave anything behind.
Next, our developers migrated written content on site that was seamlessly moved onto BigCommerce store with product and customer information is transferred as well.
To prevent damage to SEO performance, another critical step is implementing 301 redirects. Our experienced team specializes in all BigCommerce server settings' technical details and has implemented these redirection requests on our full migration data project with Glitter Unique.
We have also migrated the following items:
Orders
Customers
Categories
Products
Option Categories
Options
Info Pages
Template Customization
When designing a target store, it is crucial to ensure that the design is up-to-date and modern. The first interaction between visitors and a website has huge implications on how customers perceive your brand; thus, you must take into account what they think of this impression in order to maximize conversion rates from traffic as well as customer experience online.
Our team strived for simplicity and ease of use in our design process. The client chose a responsive BigCommerce template from the selection, which we customized with grey and pink colors that matched their logo branding elements including top navigation menu items, search bar layout, content sections, etc., as well as adding call-to-actions on key pages to utilize an important digital marketing channel.
Optimizing all these elements before going live is really important because it helps us meet as many customers' needs and requirements as possible. Customers are more likely to shop with a business that has the features they want available, which will result in higher sales for our company!
Result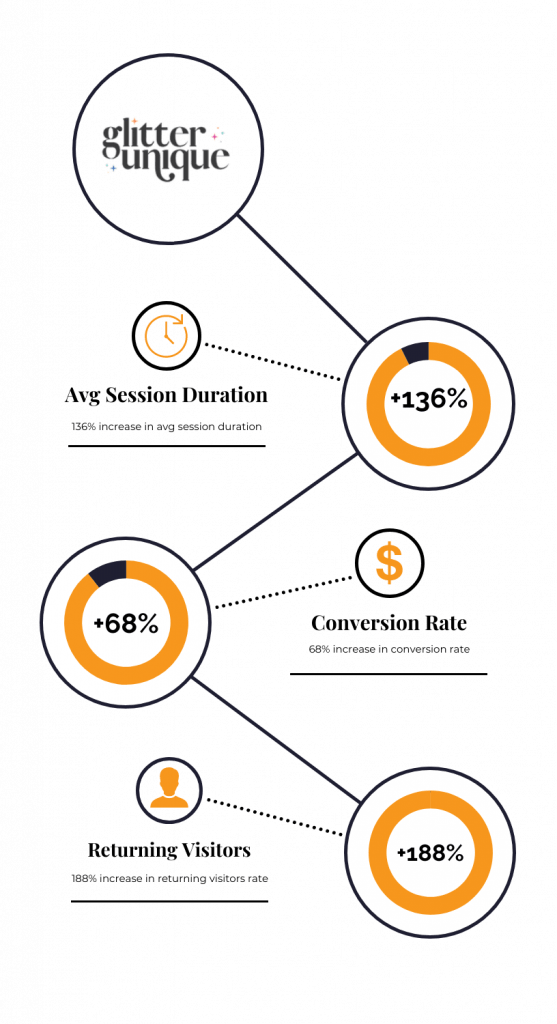 FAQ – BigCommerce to Shopify Migration
Is There a Risk to Lose Some Crucial Data?
When you've been running an online store for a while, the amount of data is probably high. Data migration from BigCommerce to Shopify can be tedious and time-consuming if done manually. Using automated services that aim to transfer all selected entities will make it easier to replatform your site quickly with minimal effort on your part! While migrating from BigCommerce to Shopify manually, store owners run the risk of losing some critical information.
How Long Does Migrating My Online Store from BigCommerce to Shopify Take?
It is important to note that migrating your Shopify store manually can be a difficult process. This is why many people choose automated migration since it will help you save time and avoid potential problems. The speed of the Shopify migration depends on how large your shop's data set size is and what pricing plan you are using with Shopify.
Will My Redirects Start Working Immediately Once My Migration Process from BigCommerce to Shopify Is Completed?
It is common for store owners to worry about redirects during the BigCommerce to Shopify migration process. It's important to understand that automated redirection will become active once the Shopify migration has been completed, and using an additional option like "Create 301 Redirects on your target store after Shopify Migration," can ensure that all of them work properly.
Will My SEO Be Damaged While Migrating from BigCommerce to Shopify Store?
When switching from BigCommerce to Shopify, you may experience a loss of traffic and search engine ranking. The best way to avoid this is by making sure your website's structure remains the same when migrating over. You can also check out blog posts on SEO migration for more information about avoiding these issues!
Does BigCommerce integrate with Shopify?
Shopify and BigCommerce have 'app stores' available for users. These app stores allow you to integrate other web applications into your target store or add features that make it even better than what's already offered by the platforms!
What Is CSV File Migration?
The CSV file is a text document that has specific formatting to allow for data in an organized table format. We assure compatibility with your CSV file and the Target store so that all of your information and CSV file transfers seamlessly.
How Can I import Data (a CSV file) into Shopify?
Starting from your Shopify admin, go to Products > All products. Click Import and then import the CSV file into your Shopify account by finding it on your computer's hard drive. Once you import data in batches of 1000 per page or less (it will be easier that way), check off Replace any current products that have the same handle if there are duplicates so make sure all product names match up across platforms after the CSV import process.