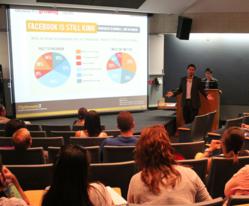 On April 8, Duran Inci, Co-Founder and COO of Optimum7 and social media strategist Lucia Sastre spoke to Professor Grizelle De Los Reyes' and Professor Carlos Suris's "Media Planning" and "Entrepreneurship" classes at Florida International University's Biscayne Bay campus about the importance of social media in building a positive online presence, highlighting strategies and real world tactics to advance their online authority and visibility as job seekers.
There has been a dramatic shift in the way the world works, and technology is at its core. Google now knows who you are. Employers scout new talent and potential hires online, which makes it imperative that students have a positive online presence. They simply cannot afford to have inappropriate content showing up online.
"The best way for students to take control of what potential employers can see about them online is to build, customize, and maintain social media profiles that showcase their accomplishments, involvement, and connections within the industry," says Duran Inci.
Lucia Sastre says, "It is definitely important to have an online presence, but it's not a static thing. Students must use their social media accounts to start making valuable connections now that will serve them in their career search in the future. Your resume is no longer something you submit; it is your online profile. It is public, which is why building a positive online reputation is so important."
She specified LinkedIn and Google+ as the two most important social media sites for students to build their authority on because they are used as professional networks, rather than a way to keep up with old friends.
"Internet Technology is changing at an incredible pace. The strategies and processes that we used as Online Marketers, Programmers and Designers twelve months ago are mostly invalid today. How can we expect students to keep up with these changes and find jobs when they graduate if the universities do not provide the necessary updated classes, and further support for students in the form of Workshops, Seminars and Internships through relationships with the actual experts in the industry?" says Duran Inci. He continues, "This is exactly what Optimum7 is trying to achieve with FIU."
A few strategies suggested to students included changing privacy settings on non-professional profiles to restrict public view, restricting tagging, creating accounts on LinkedIn and Google+ using their full name and professional-looking pictures, "Googling" themselves regularly, setting up Google Alerts for their names, guest blogging related to their desired field, contributing to top tier publications, and starting their own blog.
In the Q&A session after Duran's presentation, Lucia found that students were still engaged with the material and most curious about different social media applications, which tools were free and which weren't, specific questions about privacy settings, Twitter, and HootSuite as tools for their career search or their start-up business.
Optimum7 is passionate about keeping students up-to-date on the reality of the marketing industry and the importance of controlling their online presence in workshops at various colleges around Florida. 10620350 is available for workshops about different Internet technologies and online branding techniques.
For more information about this topic, or to book Duran Inci as a speaker for your event or college workshop, please call (305) 477-8960 x211.