If you're looking to jump on the bandwagon and build your own online marketplace, now is the time to do it! This article will help you understand the best eCommerce Marketplace model and walk you through the steps of building one.
Let's get started!
What is an Online Marketplace?
An online marketplace is a website or app where third-party providers can submit their goods and services to be presented directly to potential customers. The key feature of a marketplace, like Airbnb, is the peer-to-peer approach.
This means that anyone (not necessarily a company) can be a distributor and a buyer.
To put it simply, online marketplaces are platforms that connect buyers and sellers from all over the world. Best of all, because they're online, they're available 24/7, 365 days a year.
The Different Types of Online Marketplaces
Now that you know what an online marketplace is, you must find the ideal marketplace for your business. Do you produce goods or provide services? Does your target market consist of consumers or other business owners?
Fortunately, there are many different types of online marketplaces that are suitable for:
Products
Services
Customer-to-Customer (C2C) Interactions
Business-to-Business (B2B) Interactions
Business-to-Customer (B2C) Interaction
Product Marketplaces
Online marketplaces that sell physical products. These include everything from smal retailers to giants like Amazon and eBay.
Service Marketplaces
These are online marketplaces that sell services. Through apps like Airbnb and Fiverr, consumers can find lodging, laborers, and creatives.
C2C Marketplaces
Online Marketplaces that allow customers to sell to other customers. Examples of Consumer-to-Consumer marketplaces might include stores like Etsy and Depop.
B2B Marketplaces
Marketplace websites that enable businesses to sell to other businesses. Business owners who create their own products to sell on a C2C site might procure supplies from Business-to-Business marketplaces like Alibaba and Thomasnet.
B2C Marketplaces
These are online marketplaces that allow businesses to sell to consumers. For examples of Business-to-Business marketplaces, think Shopify and Zalando.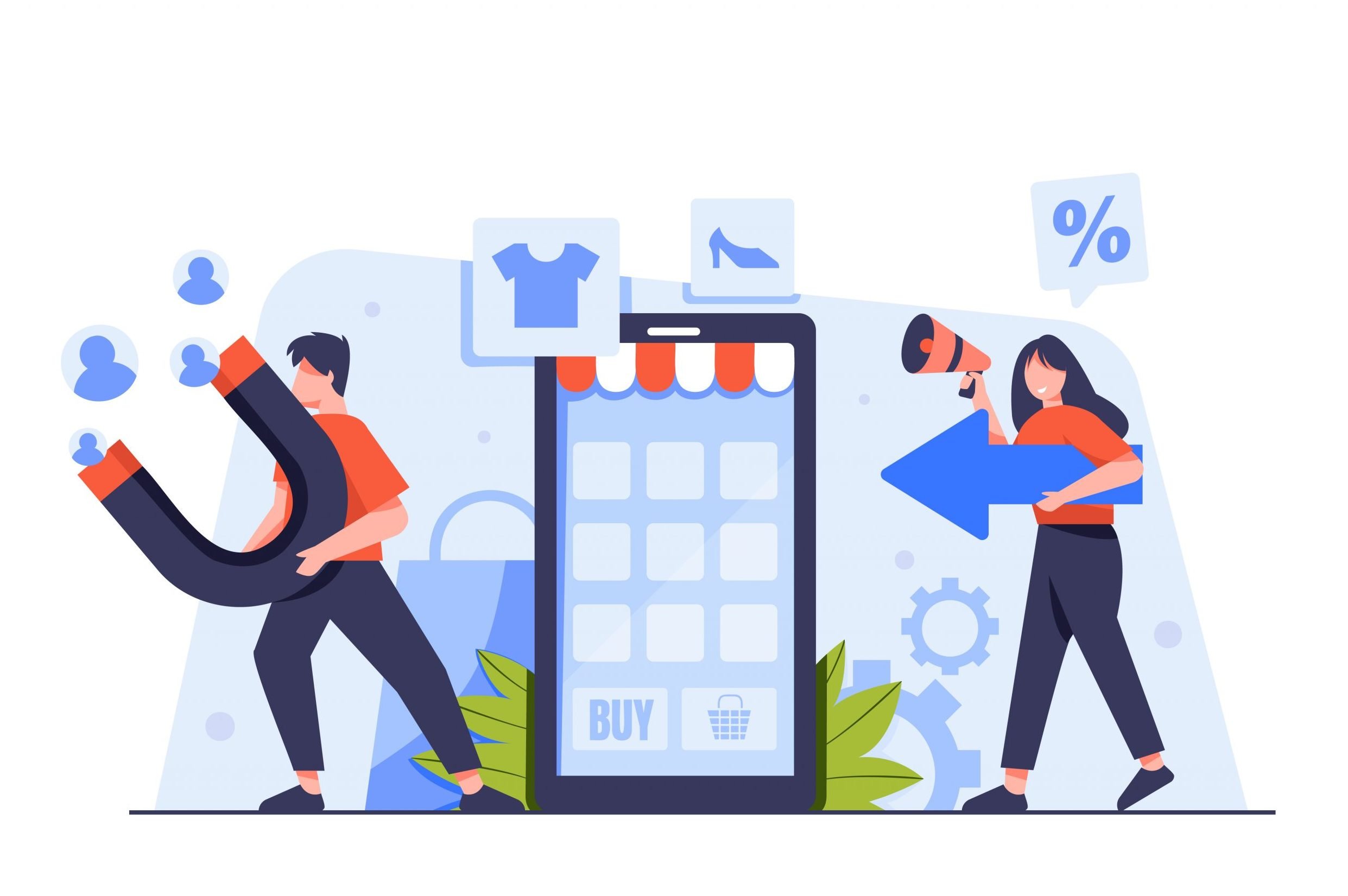 Why You Should Build an Online Marketplace
Just because you know the ideal type of online marketplace for your business, doesn't mean you're ready to get started. In fact, you're likely wondering why you should build one in the first place.
Well, there are actually a lot of reasons, such as:
Increased reach
Typically Open 24/7
Passive Income
Increased Customer Loyalty
Increased Reach
When you build an online marketplace, you immediately have access to a global audience. This is because online marketplaces can be used by anyone with an internet connection, no matter where they are in the world.
Open 24/7 (with Exceptions)
Unlike brick-and-mortar businesses, online marketplaces can operate 24 hours a day, 7 days a week (unless there is a server-side issue). This means that your customers can always browse and purchase items on your marketplace, even when you're asleep!
Passive Income
Once your online marketplace is up and running, you can start generating passive income.
This is because online marketplaces typically take a small percentage of each transaction as commission.
Therefore, the more transactions that take place on your marketplace, the more money you'll make!
Increased Customer Loyalty
When customers have a good experience on your online marketplace, they're likely to come back and use it again in the future. This helps to create loyalty and repeat business, which is great for your bottom line.

Is There a Market for Your Marketplace Idea?
Market volume is also important. By analyzing the market, you can decide which part of it you will target.
This is done by looking at the total amount of money that is being spent in that market. You should also consider the following questions when analyzing the market:
How fast is the market growing?
What is the average order value?
What is the customer lifetime value?
What is the customer acquisition cost?
All of these factors will help you to determine whether or not there is a market for your online marketplace idea.
How to Build an Online Marketplace?
If you're familiar with the different eCommerce marketplaces, and why you should build one, then it's time to learn how to build an one.
Here are the steps you'll need to take:
Choose your niche
Research your idea
Create a business plan
Choose your platform
1. Choose Your Niche
The first step is to choose the niche for your online marketplace. This can be anything from physical products to services to digital goods. Once you've decided on your niche, you can move on to the next step.
2. Research Your Idea
Before you start building anything, it's important to do your research and make sure there's a market for your marketplace idea. This means looking at the existing competition and seeing what gaps there are that you can fill with your product, service, or concept.
3. Create a Business Plan
The next step is to create a business plan for your online marketplace. This should include things like your target market, marketing strategy, and financial projections.
4. Choose Your Platform
Once you have a business plan in place, it's time to choose the platform that your online marketplace will run on. There are a lot of different options out there, so take your time and choose the one that's right for you.
Now the tricky part.
Build a Marketplace Website
There are two ways to approach marketplace website development:
Developing the website from scratch
Creating the marketplace platform on top of another platform
Developing the Website from Scratch
The first method is more expensive and time-consuming. You will have to invest in building the whole website infrastructure, and in the online marketplace development itself.
This way is usually chosen by those who want to create an online marketplace with a very specific set of features, and which are not available on any of the existing platforms.
To create a marketplace website from scratch, you need to go through the following steps:
Test the idea with a prototype
Get the project documentation-ready
Create a marketplace website Minimum Viable Product (MVP)
First Step: Testing the Idea with a Prototype
Before you build an eCommerce marketplace, it's important to create a prototype and test the idea. This will help you validate the concept, work out any kinks, and ensure that the final product is user-friendly and meets customer needs.
There are a few different ways to go about prototyping your marketplace. You can start with a simple pen-and-paper sketch, or you can design an interactive HTML model.
If you're not experienced in web development, it's best to partner with a company that specializes in this area. They'll be able to help you create a first-class marketplace website prototype that accurately reflects your vision.
Once the prototype is complete, it's time to put it to the test.
Ask potential customers to use the site and give feedback on their experience. Use this feedback to make improvements to the design before moving forward with development.
Taking these steps will help ensure that your marketplace is successful when it launches. The idea behind the prototype is to validate your product, get user feedback, and attract initial investments.
However, you need something that can showcase all of these features. With no functional MVP phase in place yet, you can't move on to building out any kind of website or app.
Second Step: Getting the Project Documentation Ready
When building an eCommerce marketplace, it is important to first prepare a project specification that includes detailed information about your product. This should include the design, number of 3rd party integrations, the number of features and their complexity, etc.
Doing so will ensure that your product meets the necessary requirements and that you are able to build a high-quality marketplace. Furthermore, it will allow you to better estimate the costs associated with building an eCommerce marketplace, and subsequently, ensure that you stay within budget.
Finally, a well-prepared project specification will make it easier to find talented developers who can help build your marketplace. This is an important stage in the project because it ensures that everyone on your team understands what needs to happen and how you expect them to do their job.
Third Step: Creating a Marketplace Website Minimum Viable Product (MVP)
At its core, an MVP is about building an eCommerce marketplace with enough functionality to attract early users and collect initial feedback. This approach can help you validate your marketplace idea and reduce time to the market with minimum investments.
Of course, every business is different and there is no one-size-fits-all approach to MVP development. However, there are some common MVP strategies that can be applied to most marketplace businesses.
For example, one common approach is to build a basic version of the marketplace website and then add new features and functionality over time. Another strategy is to launch the marketplace with a limited selection of products or services and then expand the offerings as the business grows.
But don't forget to focus on serving your niche…
Whichever MVP strategy you choose, the important thing is to focus on creating a functional marketplace that meets the needs of your target market.
With a solid MVP in place, you can then continue to build out your marketplace at a more gradual pace, adding new features and functionality as needed.
Further, when your website makes a profit, you can reinvest it into creating additional features.
Creating the Marketplace Platform Over Another Platform
The second method is less costly but still requires some investment. You will need to find a suitable platform and buy it (if you can't use it for free).
Then you can start developing your marketplace on top of it.
This way is chosen by those who want to create an online marketplace quickly and with minimum costs. It has some advantages and disadvantages when compared to the first method.
Advantages of using an existing marketplace platform:
You don't need to develop everything from scratch, which saves you time and money.
There is a lot of online marketplace software available, so you can easily find one that suits your needs.
Disadvantages of using an existing marketplace platform:
You will be limited by the features of the platform you choose.
It can be difficult to find a platform that meets all of your requirements.

Customers Expect These Core Features of Marketplace Websites
These features are not exactly required to run a marketplace website but are expected from the user as a default:
User Management Solutions and CIAM like SSO (Single Sign-on)
Developing a two-sided marketplace app requires careful planning and attention to detail. With careful planning, a two-sided marketplace app can provide an enjoyable and convenient experience for both buyers and sellers.
Buyers should be able to easily register and navigate the site, with convenient search and filtering options. They should also have access to information about the sellers, such as ratings and reviews.
For sellers, it is important to have features that allow them to manage their private and public information, and to create new offers of products or services. A single sign-on feature for sellers would be particularly useful, as it would allow them to quickly and easily create new listings.
Payment Systems Integration
A secure payment system is essential for any marketplace website. Not only do buyers need to be confident that their personal and financial information is safe, but sellers need to be sure that they will actually receive payment for their goods or services.
Fortunately, there are a number of reliable payment processors available, such as PayPal and Stripe. Both of these platforms offer single sign-on, which makes it easy for customers to make purchases without having to remember multiple usernames and passwords.
In addition, both PayPal and Stripe have built up strong reputations over the years. This means that buyers and sellers can be confident that they are using a trusted and reputable service.
Real-Time Chats
When choosing a product or service, buyers usually have some questions for sellers. It's crucial to let them get answers immediately, and the best way is through instant messaging.
This way, they can get the information they need without having to wait for a response via email or phone. Additionally, instant messaging provides a single sign-on solution, so buyers only need to remember one login and password.
This makes it more convenient and user-friendly, which can result in more sales. Therefore, it's important to offer instant messaging as a way to communicate with potential and current buyers.
Search and Filters
Your marketplace website should be convenient for buyers to search for goods or services. To make it easy for them, you should consider implementing a search and filter feature that will make the navigation easier for them.
This way, buyers will be able to quickly find what they're looking for without having to search through a lot of irrelevant results.
Making it easy for buyers to find what they're looking for, you'll be able to increase conversions and sales on your marketplace website.
Building a Marketplace Platform Using Another Platform like BigCommerce
The BigCommerce platform aims to simplify and empower the process of launching your own marketplace. It's a lot easier to develop and launch a website using BigCommerce as the foundation.
With today's technology, you can get it up and running with help from the right people.
But there are several things that will work in your favor if you plan on choosing BigCommerce as the foundation for your eCommerce marketplace platform:
Efficient Product Management
You can categorize and organize your inventory, examine product information, and display the most relevant information to your customers, using a sophisticated product information management tool that can be found in BigCommerce. It will also provide you with the tools necessary for inventory and pricing management.
The product information page is another crucial aspect of the marketplace company. Price, delivery, and availability should all be included.
On your product information page, you should also include detailed photographs and give your suppliers a means to establish and update their product catalog.
Effective and Easy Customer Onboarding
To attract successful vendors with a competitive product, you need to create an easy and streamlined process for them. You can't just hope that they'll be attracted by the opportunity; there are many aspects of your business that will determine how much work goes into their onboarding as well!
Any automation of eCommerce integration can be very beneficial because it allows you to focus more time on your vendors, especially early in building out the marketplace. You'll also need an advanced backend solution that will help keep everything running smoothly and effectively.
Easy Platform Maintenance
When launching your marketplace website, choosing the right platform for easier and cheaper maintenance is almost as important as the whole project. You need features and benefits that will allow you to operate your company easily after launch as well as maintainability in case anything goes wrong along the way!
Tips for Building a Successful Online Marketplace
Building an online marketplace is a big undertaking, but it can be a very rewarding one. To help you build a successful online marketplace, here are a few tips:
Keep Things Simple
When building your online marketplace, try to keep things as simple as possible. This will make it easier for your customers to use and will help you avoid any technical issues.
Focus on Customer Experience
The customer experience should be your top priority when building an online marketplace. Make sure that everything from the design to the checkout process is smooth and easy to use.
Offer Something Unique
There are a lot of online marketplaces out there, so to stand out from the crowd, you'll need to offer something unique. This could be anything from a more personalized experience to lower prices.
Promote Your Marketplace
Once your online marketplace is up and running, make sure to promote it! There are a lot of different ways to do this, so get creative and get the word out there about your new marketplace.
Building an online marketplace is a great way to tap into a growing industry. By following the steps above and keeping these tips in mind, you can build a successful online marketplace of your own.
Successful Marketplace Website Examples
Here are the top three marketplace websites that you definitely already know, and which can give you a better idea of what works and what doesn't.
If you want to have a better understanding of what makes an eCommerce marketplace good, go to these websites and take notes of the features that you would like to see on your own marketplace website.

Amazon
The most famous eCommerce marketplace in the world, Amazon has become an example of what a successful online store should look like.
They host over two million vendors and merchants on their service, and they're ranked number one for customer satisfaction among all major American retailers out there today.
So it's no wonder that this company generates around $178 billion dollars every year!

Walmart
Walmart is a well-known brand with locations across the United States and is another leading eCommerce marketplace. Walmart is expanding its product offerings and allowing companies to sell on its platform every passing day.
Walmart is a significant addition to the list of the top leading eCommerce marketplace platforms online because of its unique design in comparison to other online selling sites such as Amazon and eBay.

eBay
eBay is one of the first online marketplace platforms and has been around since 1995. This online selling platform has allowed anyone with an internet connection to sell just about anything they want!
With over 25 million sellers and 157 million buyers, eBay is a top destination for online shoppers looking for good deals on just about anything.
Conclusion
An online marketplace is a website or app where third-party providers can submit their goods and services to be presented directly to potential customers. The key feature of online marketplaces is the peer-to-peer approach, which means that anyone can be a distributor or a buyer.
There are many reasons why you should build an online marketplace, including increased reach, 24/7 operation, passive income, and increased customer loyalty.
If you're interested in building an online marketplace, follow the steps outlined in this article: choose your niche, create a business plan, choose your platform, build your marketplace, and launch your marketplace. By following these steps, you'll be well on your way to launching and maintaining an eCommerce marketplace website.