Potomac Beads is an online business that aims to stimulate creativity and inspire customers to create unique designs. In addition to being a bead retailer and selling supplies and resources, Potomac Beads also devises free tutorials to inspire visitors and improve creative ability.
Our client's product line included a large number of bead types and other supplies. Online visitors had trouble focusing on a specific category and reaching the product they desired. They definitely needed a custom functionality to prevent confusion on the user's end, so one of the major obstacles would be removed to create a satisfying internet shopping experience.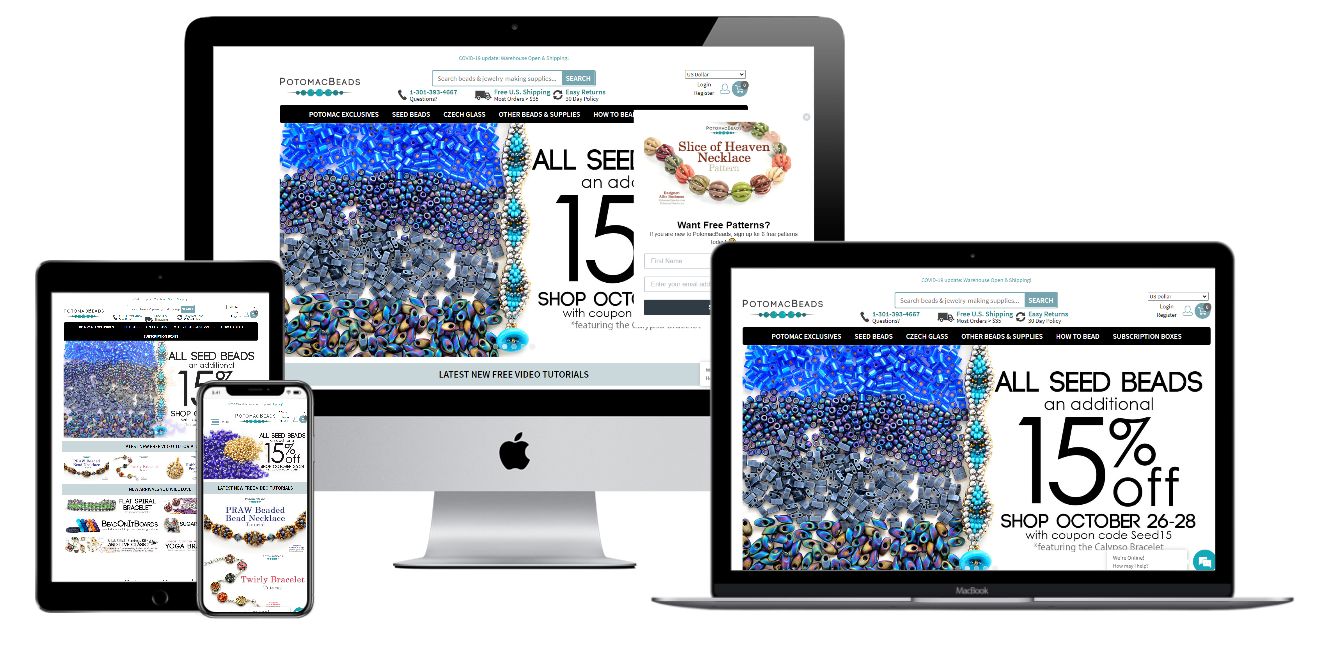 For our client's online store on Volusion, the main objective was to improve eCommerce UX by developing a solution that streamlined reaching the desired product. As must-have functionality for B2B stores and marketplaces, an Advanced Search & Filter Functionality would be an effective way to boost our client's eCommerce expansion.
The search bar would provide user interaction for Advanced Search Functionality. This would be suitably added to the design of the eCommerce website. Within the custom filter functionality, online visitors would gain the ability to filter products by UI filter options created by our developers.
Custom Functionality: Advanced Search and Filter
Custom Functionality: Advanced Search and Filter
Advanced Search: The principal need in advanced search is to show products on developed Search UI as well as partial search autocomplete. Our developers easily indexed data and products to ElasticSearch. JS code was placed into the Volusion database for results and filters. We ensured products display in real-time as a query is being typed, and gave the ability to put category pages on search results drop-down and to prioritize products that are displayed in real-time. The main database daily syncs and indexes information from the webpage. We also added Direct API integration with Volusion for search queries. The functionality has been implemented on the frontend with completed regression tests.
Custom Filter: We agreed on applying custom filter functionality to both categories and products. Before starting custom filter functionality's development, our client identified filter categories and filters that the developers would apply. We delivered a file that our client can edit to add or remove filters, even after this functionality goes live.
All of these identified filter categories and filter options can be collapsible. They can also be displayed in any priority. Our developers used real-time API into Volusion for filter queries. In this way, users would be able to instantly get accurate search results. We also made improvements to the user experience by providing fast filter results without reloading on category pages.