Florida National University, FNU for short, is an accredited private university with three campuses within the city of Miami. Founded in 1982 as Florida National College, FNU received its university accreditation in 2012 with core programs for ambitious undergraduates and graduates. FNU is a former client of Optimum7.
FNU came to us to receive customized marketing in April 2013. Despite several decades of developing accredited programs for nurses, forensic scientists, and business executives, FNU was lacking in online visibility. Prospective students did not know about the programs, which meant enrollment goals are low. They came to us to enhance their brand awareness and to improve their content.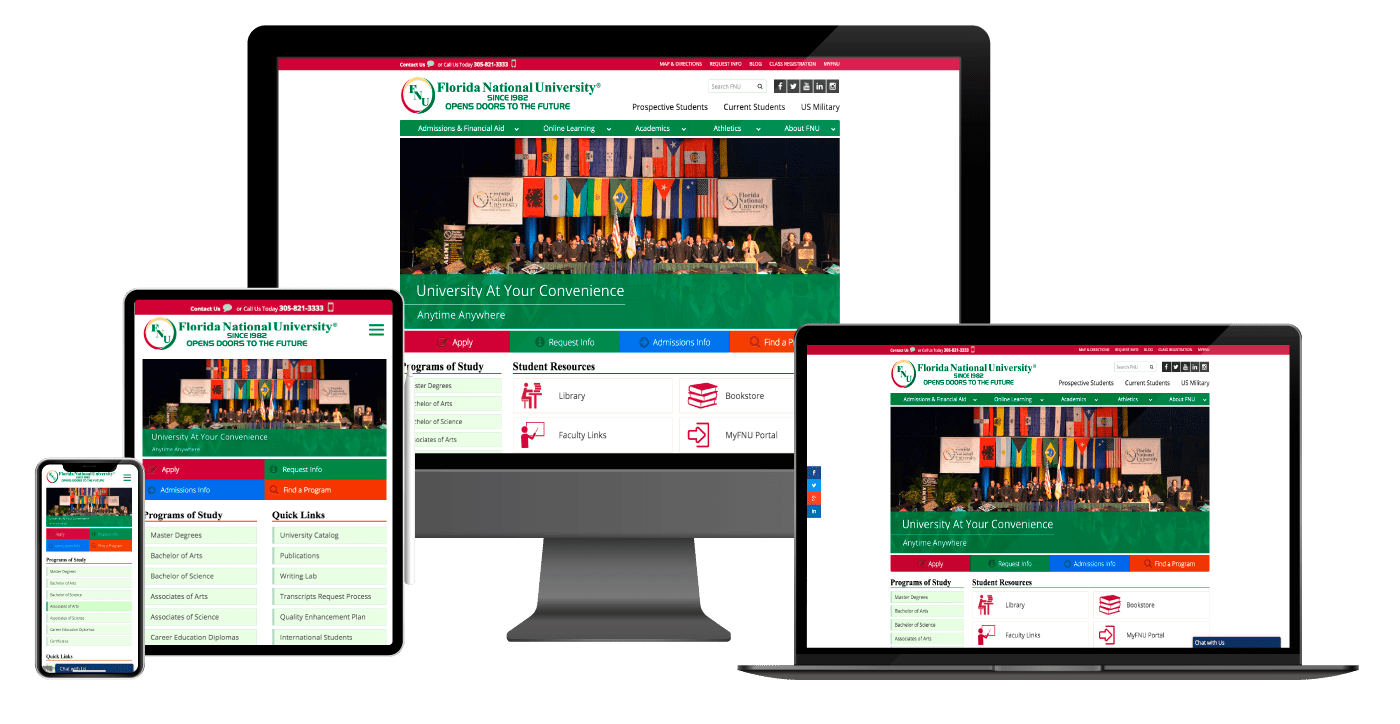 Our objective was to increase FNU's online visibility for all of its degree programs and generate leads from interested students. This meant ensuring that their content was optimized for SEO purposes so that prospects and leads could find the academics, inquire on the website for more information, and potentially enroll for the next semester. They wanted applications for criminal justice, law, forensics, and more. We defined "Goal completion" as generating viable leads, which in this case were prospective students.
Custom Programming/Functionality
SEO & Content Marketing
Content creation
Content creation and implementation on their WordPress site meant implementing approximately 96 articles a year, posted on a monthly basis, related to specific academic programs. Our copywriters also created press releases; the total was approximately ten articles per month. Such a high volume meant that FNU could rank for more keywords, and gain more visibility on Google.
Technical SEO
404 error pages are a great way to lose prospective students. Our marketers implemented 301 redirects to ensure that no lead got lost due to a webpage error or deletion. Additionally, we optimized source code and images to maximize site speed.
Onsite Optimization
We made it easier for prospective students to find the programs that they were earnestly seeking. We drafted top-of-the-funnel and middle-bottom funnel pieces, to reach every potential lead. To do so, marketers increased the keyword universe (KU). This is the number of keywords in which FNU ranked for on Google. Their KU went from 549 ranking keywords in 2015 to 6,550 in 2020; two thousand of those acquired keywords are ranking on pages one and two of Google.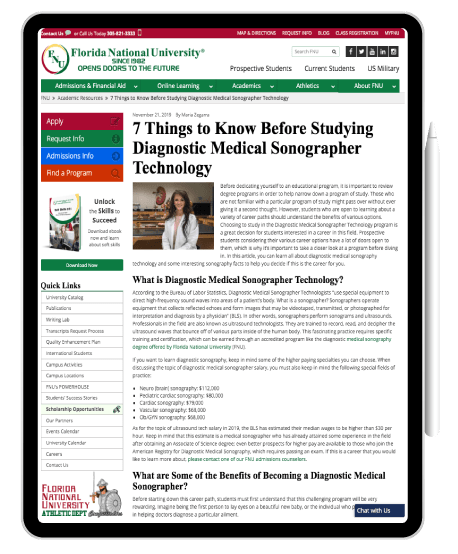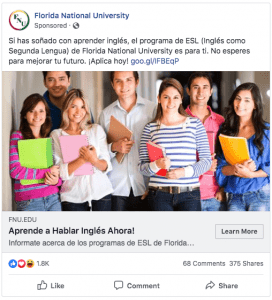 Facebook Advertising
Over the years, we have had great success using Facebook as a lead magnet for every specific program FNU has to offer. We have executed campaigns for graduate degree programs, undergraduate degree programs, and continuing education certificates.
One example, we ran a campaign targeting prospective students interested in enrolling in English as a Second Language or ESL classes. This campaign successfully generated highly qualified leads for just $4 per lead!
Custom Programming and ADA Compliance
Custom and Dynamic Call To Action (CTA) 
Calls to action encourage website users to take certain actions, from contacting relevant business parties to signing up for newsletters and more information. We added dynamic CTAs to encourage conversion and lead optimization.
Dynamic Lead Generation Program Pages
Our marketers wanted to track the potential leads on FNU's pages and increase the number of inquiries from prospective students for every degree program. This meant creating specific program pages to measure the results, that would track how many prospects inquired about a specific program.