How Does SEM (Search Engine Marketing) Work?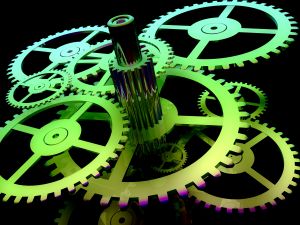 Search Engine Marketing (SEM) aims to improve the visibility of a website in Search Engine Result Pages (SERPs). The purpose, as with any marketing, is to build an audience. Search Engines are a great way to do this since they're the top referrer for new visitors. SEM uses search engine optimization (SEO) and pay per click advertising (PPC) to promote a website. SEO involves organically getting your website in the top search results while PPC allows you to easily buy your way onto the front page.
In SEO, there two kinds of optimization: onsite and offsite. Onsite optimization focuses on making your website "search engine friendly." This friendliness involves formatting your website according to guidelines (see Google Webmaster Guidelines) and adjusting individual elements such as page titles, descriptions, sitemaps, and meta information. This allows the search engines to easily access and index each page of your website. Once this foundation is established, offsite optimization, the more important of the two, puts your website on the map. Offsite optimization focuses primarily on creating quality content that can be syndicated. Content can include videos, articles, press releases, and much more. It should be original, high quality, and provide your viewers with desired information. More importantly, this content (and its syndication) will generate backlinks, links to your website found offsite. These links play a key role in the complicated, undisclosed algorithms search engines use to generate results. Backlinks and, by extension, content are fundamental to improving your online visibility.
With PPC (Pay per Click), you place an advertisement on a website (a search engine, in this case) and pay for the ad according to how many clicks it generates; the more people click on your link, the more money you pay. The paid or sponsored ads displayed on search engine result pages are based on the search query. If you search "travel," for example, the ads will relate to that keyword. This relevancy connects you directly with viewers interested in your products or services.
The majority of PPC models used by search engines are bid-based. In these models, you designate the highest cost per click (CPC) you're willing to pay in order for your ad to appear on a certain keyword page. Broad keywords like "travel" can be extremely competitive and, as a result, expensive. SEM strategies involve analysis of keywords, click-through rates, and potential revenue to help you find the best markets. PPC also gives you the ability to determine which page your new visitors will land on by designing a unique page, a landing page, specific to the ad and designed to convert. Analytics such as Google Analytics can help you determine which page and which keywords result in the most conversions, providing with you with an essential tool towards achieving profitability in PPC or Sponsored Search. Furthermore, this information is often used to create more compelling ad copy and better converting landing pages. Knowing what keywords attract your audience will help you do the same so extensive Keyword Research is central to success of any PPC strategy and any Internet Marketing Strategy for that matter.
PPC is great because it allows you to instantly make your website visible. SEO takes longer but has the long term potential of bearing much more fruit as 85% of all searches result in an organic click and not a paid click.  In addition, SEO clicks are free so once you have established the "beachhead" on page 1, you only need to keep doing the things that got you there.
If you are seeking help with either PPC or SEO or you are looking for the development of a custom SEM strategy and implementation, you need only contact us for a free initial consultation.