How Will SOPA Affect your Internet Marketing and SEO?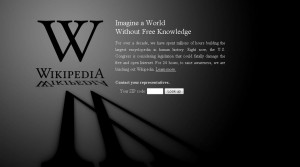 Wikipedia, Google, Reddit and many other sites are on blackout today on a mission to protest the SOPA (Stop Online Privacy Act). While many business owners and technology analysts cannot forecast the exact repercussions of such a bill, there is great concern and consternation.
We wanted to take a minute and try to suggest how this may affect small and medium sized business. There are hundreds of thousands of websites in USA that make money online and we believe that this bill would affect everyone. Here's how:
When you generate content, You might have to verify every single source that you link to and MAKE SURE that they're not also violating SOPA in some way.  This goes for articles, videos, images and any type of online content.
You might have to verify every single source that you link to and MAKE SURE that they're not also violating SOPA in some way.  This will be a complete waste of resources each time you post content. This in turn would decrease interlinking between sites and affect SEO.
Google indexing might become more difficult as Google would also need to adjust to the new rules and regulations. They would have to verify all the sites they're indexing and that NONE of them violate any copyright laws. This would mean that the Sandbox would come back and Google would take a much longer time to index new sites and pages.
New backlinking methods might emerge such as "no-follow" or "no-right". The industry would adapt to SOPA by protecting themselves by linking to sources with more caution. It would mean that interlinking will happen but with specific codes such as "no-right-follow" which might mean that the linked website's information has not been verified.
On a similar note, Social Media sharing will be limited as users might not be able to upload and share images, videos, clips, TV ads or any type of copyrighted content without permission. This affects Facebook, YouTube and almost any other social or media sharing site online. Individuals also run the risk of being sued. Small time media companies and start ups will not have the resources to pay for unnecessary sharing rights with big media companies; innovation will be limited and we might not see sites such as Digg, Reddit and YouTube emerge going forward.
The biggest concern is that SOPA is just so very broad in scope. In the name of limiting software piracy and the illegal drug trade, SOPA will also limit freedom of speech, the first amendment to the U.S. Constitution, because it sets up all kinds of obstacles and traps to online publishing.  Further, it provides the legal system with a treasure trove of lawsuit potential as almost everything published will be subject to interpretation of law as proposed by SOPA.
Share your thoughts with us please and tell us how you think SOPA will affect you.