This functionality will allow products to appear as users type an inquiry in the search bar, making items more easily accessible. We can filter different categories on the search results page including price, color, size, and more. Most ecommerce systems, including Volusion, don't come with an advanced search system out of the box, so itís critical to enlist an experienced professional team to deliver this functionality. A 3rd party like Searchspring might cost you up to $7,200 annually but we can clone this functionality at a fraction of that cost.
---
Advanced Search Functionality
The Advanced Search Functionality supercharges your website's search ability with rich, detailed search results to help users find exactly what they're looking for even if they don't enter an exact product name or keyword. Embedded images within the search results visually assist users in locating the product they want while search suggestions list similar products they might be looking for. Stop missing out on sales because customers who can't find what they want due to simple mispellings or simply not knowing what the product they want is exactly called.
Who is it for?
The Advanced Search functionality is useful for any ecommerce store that has a sizable number of products that are similar to each other. Functionally, it is useful for every ecommerce store because it enhances the overall search and user experience. Almost every ecommerce store will see a direct benefit from Advanced Search. We can implement advanced search for almost every ecommerce platform including Volsuion, Bigcommerce, Sparkpay, Magento, 3DCart, WooCommerce and ZenCart.
---
What Does It Do?
The Advanced Search functionality does a number of things, all of which are customizable by the admin:
Display images next to each of the search results.
Offer search suggestions in case of mispellings or partially-entered queries.
Display product details such as price, model no., features or specials.
Advanced Search Functionality Benefits
Instead of providing users with a simple, text-based, and non-dynamic search bar, Advanced Search gives users the power to find exactly what they're looking for much more quickly. This translates into increased conversion rates and lower abandonment rates as users find what they want faster.
---
The Difference Advanced Search Functionality Makes
We have implemented Advanced Search on a number of ecommerce websites and have almost always noticed an uptick in conversion rates around the time of implementation and thereafter.
Try it
You don't just have to let us talk about the functionality. Try it for yourself on our live sandbox and get a feel for what it can do for your ecommerce store.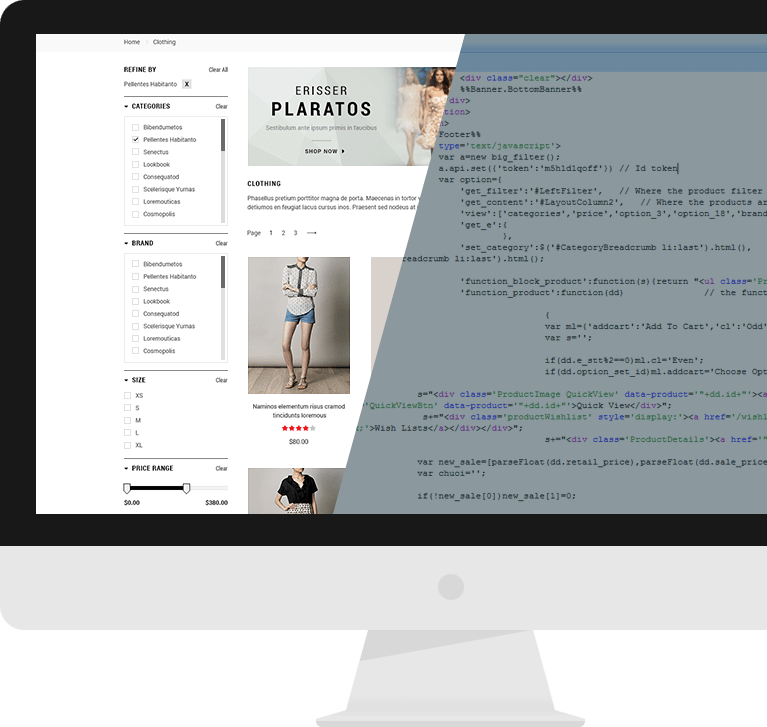 Questions?
We can help you determine which functionality is best for Shopify, Bigcommerce, Volusion, Magento, 3d Cart, Wordpress / WooCommerce, Opencart, Episerver, Oracle ATG and any Custom Cart.
Contact us today with any additional questions you may have about our functionalities.