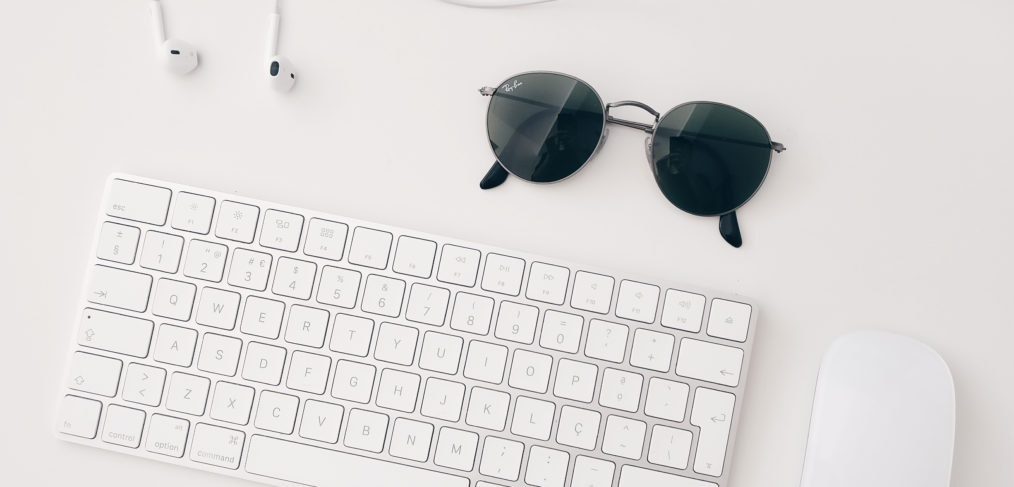 September 22, 2017
by admin
8 Ways to Improve the Customer Retention Rate on Your eCommerce Site
Compatible with the following eCommerce platforms: Volusion, BigCommerce, Shopify, 3D Cart and Magento.
An effective way to increase customer retention rate is to turn your website into an engaging platform that encourages repeated use. A significant number of sales can be gained by adding functionalities that communicate key information to your customers at the right time. For example, a notification alerting a customer that a product they are scanning was recently bought by someone else can give them the "peer pressure push" needed to complete the purchase. This is just one of many similar notification functionalities offered by Optimum7.
The beauty of these functionalities is that they apply to almost any industry. No matter what you sell it is useful to be able to notify your customers when an item is back in stock, or allow them to track an order. Functionalities like these keep your store in the forefront of your audience's mind and help you offer better customer service. See details on 8 functionalities from Optimum7 that will help you increase the number of returning clients on your eCommerce website.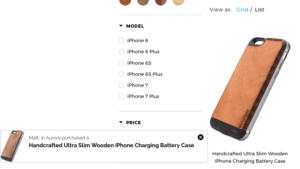 Let's say a person is on your store's website right now looking at a product and contemplating whether or not to buy the item. A notification appears in the bottom left corner of the screen telling the person that another person just purchased this same item. Do you think the shopper will be encouraged to purchase the item after seeing this? We know so. That's why we offer the Recent Purchase Notification functionality. It displays live notifications that show what products other users are buying in real time. It's a great way to create credibility and boost sales for your online store, as it shows visitors that real people are buying your products.
It's a bummer to see a product you like on an online store's website only to find out that it's 'out of stock'. You might wonder why online stores keep listings up for products that have zero inventories at the moment. Well, there's no need to lose out on sales just because the business doesn't have any of the product at this time. With the Back In Stock Notification functionality, your customers can be notified when 'out of stock' products are back. Users can opt-in to receive reminder notifications.
In Cart Item Sellout Notification Functionality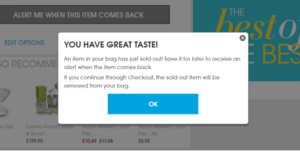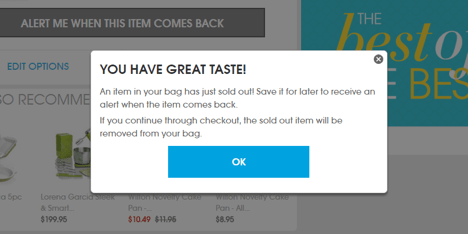 For customers biding their time, keeping items in their online shopping carts for a while, Optimum7's In Cart Item Sellout Notification functionality is a handy tool. Items might sell out because they are kept in a shopping cart too long and the products are simply purchased over time or perhaps the products are super popular and a customer didn't seal the deal fast enough. If a product is ever in a shopper's cart and it sells out before the customer gets a chance to buy the item, then the In Cart Item Sellout Notification functionality will alert them that the item is no longer available. Customers can then choose to join a waitlist for backorders or save for later, in addition to other options of your choosing.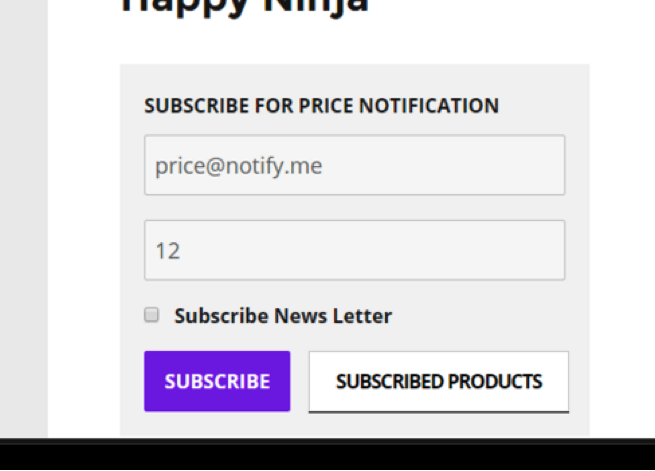 There's never a need to miss out on sales because your business doesn't have certain items in stock. With the Backorder Product and Price Drop Notifications functionality from Optimum7, customers on your website can subscribe to backorder product notifications, in addition to price drop notifications. Emails are sent when items are back in stock and products reduce so customers can hurry up and buy the items they had their eyes on.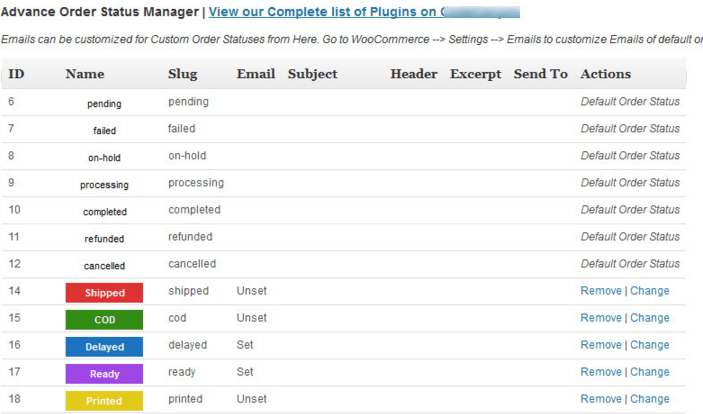 Emails to your customers boost sales for your store. There's no doubt about it. Let consumers know when your store is hosting a sale or whenever new products arrive, and do it all quicker and easier with Optimum7's Custom Email Notification functionality. This functionality allows your business to send customers email notifications that are based on a set of preset triggers. The emails may be sent after a specified amount of time has passed, after customers' orders have shipped, or if customers ever fail to complete online orders.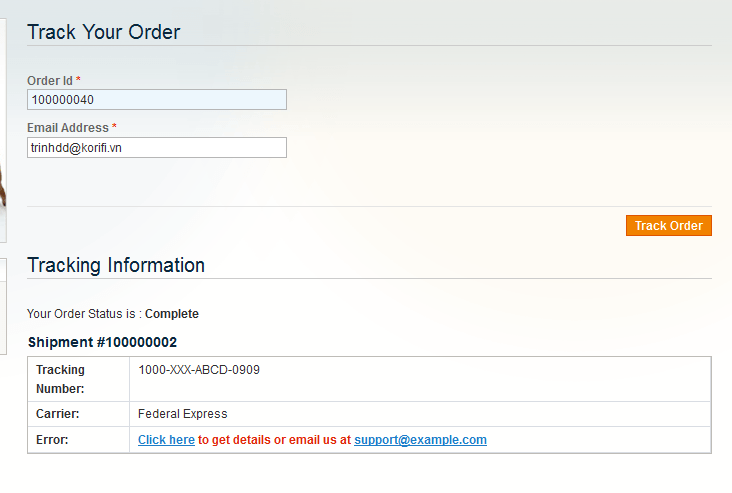 Keeping track of shipments and updating your customers on where their packages are can get tricky the more packages your business ships. The Order Tracking and Notifications functionality by Optimum7 allows businesses to easily keep track of all orders shipped out on one dashboard. This tool gives all the necessary information you need in order to keep your customers satisfied.
Customer Re-Order Reminder Functionality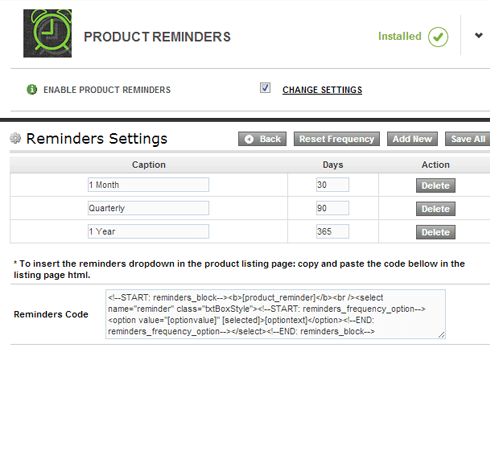 A lot of people re-order the same packages, but sometimes it can be hard to remember when to re-order what they need to buy. The Customer Re-Order Reminder functionality by Optimum7 makes it possible for you to remind your customers that it's time for them to re-order the items they need from your site. Customers simply have to opt-in to receive email notifications for a renewal or re-order reminder. Users can set-up their own reminder schedules and time intervals for when's best to place their new orders. Admins can specify custom reminder schedules and intervals for products and services.
Advanced SMS Notifications Functionality

Sometimes email just doesn't cut it. You can notify customers via text message when orders are made, shipped, and delivered. This tool helps keep customers updated on the status of their orders at all times.
Contact Optimum7
Optimum7 can help you figure out which functionalities are best suited to your type of business, and develop a detailed plan to implement them. We know that lack of time is one of the biggest reasons not to change and improve your store, which is why we take the task of custom programming off your plate.
Don't let a competitor scoop up more business simply because they have a site that offers a better search experience. Help customers find exactly what they need as quickly and efficiently as possible. In an age of short attention spans, can you really afford to do anything else? To learn more about these functionalities, contact Optimum7 today