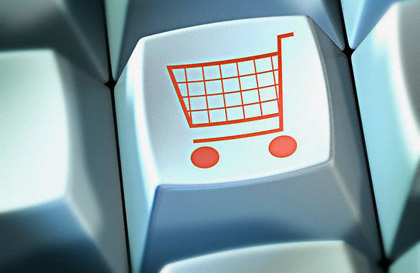 Ecommerce is the business of selling products and services on the internet. Since the introduction of banking transfers back in the 70′s, Ecommerce technology has developed rapidly. It was mainly referred to as "Electronic Commerce" then. It evolved to what we know as "Internet Business" today after the introduction of World Wide Web in the early 90′s. Retail business was limited to local stores, shopping centers, mail order and phone order up until the 90′s but Ecommerce changed all that. Doing business online enables you to reach millions of people without the bricks and mortar.
Optimum7 is an expert in Ecommerce Systems. We do not agree with the "One Size Fits All" approach and we believe that every product or service requires a different set of functionalities and "optimizations" to be profitable over the internet. ANYTHING can be sold online as long as there's demand, and a careful analysis of what's necessary to integrate the buying process of the product or service with the website platform. Optimum7 reviews numerous factors which unfortunately are ignored by many, such as:
User Interaction with the shopping cart
This is essential in having a successful online business. You want users to want to come to your site because it's easy to navigate: they can find what they're looking for and purchase easily. Anything from the colors and images to buttons and text used, can affect this experience. How easy it for the visitor to buy? How long did it take? How many clicks did it take? Optimum7 focuses on user interaction from a conversion and Return on Investment (ROI) standpoint. The greater the sales and profitability we produce for you, the longer you will be our client.
Compatibility & Database

You need to be able to add, remove and update products or services easily. You might have a wholesale business where you want all or part of your products to be sold online at retail prices. You might want quantity and inventory integration between your wholesale and retail department, or to be able to equalize inventory once a week. No matter what your needs are, Optimum7 understands and makes recommendations accordingly. Even if you forget an important factor in succeeding in your online venture, we will be there to reinforce these principles for you.
Product Management

Optimum7 has a custom approach to product management for Ecommerce Sites. The Administration Panel for your ecommerce store is web based; we have the functionality to import your products from a database into your web store. We focus on conversion so functionalities such as Quantity Discounting and Multiple Pricing Levels give you a competitive edge against your competition. We offer literally hundreds of functionalities to enhance your online store and make it more profitable.
Customer Convenience

Customer experience and satisfaction is the number one priority in Ecommerce. You want customers to buy your products or services and come back to buy again. Optimum7 implements and utilizes what customers want to see. The "One Page Checkout" functionality ensures that users complete the purchase within 60 seconds and become customers. While Customer Reviews increase the buying experience as users post and read reviews about your products / services, Customer Login and History ensures that Customers are able to see the status of their orders, as well as view "Back in Stock" Emails and build a "Wish List" functionality.
Security & Reliability

In today's online market with the high rates of identity theft and fraud, Optimum7 is committed to providing you a solution that is secure 24 hours a day, 7 days a week. Features such as Integrated IP blocking, SSL Encryption and Multiple Administrator Logins can be added to your Admin Panel; all to insure the integrity of your data and your overall online enterprise.
Updates & Development
At Optimum7, we are constantly looking for ways to further develop our Integrated Shopping Cart Systems. Through continued research and development with partners, we aim to bring you the most recent technologies in Internet Business. We keep our clients updated with industry news and new marketing strategies, as well as new functionalities for the shopping cart solution.
Advertisement & Marketing

Unfortunately, building a top notch shopping cart solution is not sufficient to bring our clients large influxes of sales. Marketing plays a huge role in achieving the financial goals of our clients. Therefore, our shopping cart solutions are 100% Search Engine Optimized. The Custom Shopping Cart Solution of Optimum7 comes fully integrated with Dynamically Generated Static HTML Pages, a Google Sitemap Generator, an Advanced Newsletter System to stay in touch with your customer base … and a Full Affiliate Management System. In short, we bring the capability to see where each and every click to your site is coming from and which of these clicks turn into a sale (Conversion Optimization).
Integrated Payment & Collection Systems

With our fully integrated Ecommerce Solution, our clients are able to accept all major credit cards as well as Paypal and Google Checkout. All add-ons to run your business and record transactions such as Tax Calculation Systems, Currency Conversions, Reoccurring Payments, Promotional Pricing and Fraud Protection are included.
Additional Industry Integrations
We have partnered up with industry leaders in order-processing and shipment services to bring you added features to execute your online business with ease. Our system is integrated with Stone Edge Order Manager, Endicia/Dazzle, Pitney Bowes and QuickBooks. Also we can send and receive XML Datasets to any 3rd party application.
Shipping Features

Fulfilling orders is the most important component of Ecommerce. If you want to ship items in a timely, safe manner, Optimum7′s Ecommerce Solution is fully integrated with all major Shipping Companies. The customers are able to see the shipping rates live on your website and track their packages after shipment in real time. We go beyond basic services by adding features such as Multiple Warehouse Shipping, Advanced Label Printing, Dimensional Shipping Support and Batch Order Printing.
International E-commerce

One of the biggest challenges in Ecommerce is shipping overseas. It's a big security and fraud concern since there's no AVS (Address Verification System) in any other country than the USA. Merchant accounts established in the US cannot verify billing address information for international credit cards, therefore leaving merchants who ship internationally vulnerable for chargebacks. Some of the options are to accept Paypal and Google Checkout, which we include in our functionalities, however it's not enough.
You can now ship internationally with piece of mind with our integrated Ecommerce solution which enables you to have much more fraud and security control over international orders.
Optimum7 takes everything into consideration in building an Online Business for its clients. Our expertise and professionalism are what we promise. For custom consultation, please contact us here.
---
FULL LIST OF FEATURES
Free 14-Day Trial – Anything Put into the Trial Can Be Brought Over When a Purchase is Made
Advanced Data Import and Export Capabilities
Completely Integrated "Instant Help" and "Certified Training" Within Your Store
Free QuickBooks Integration
Free Yahoo! Store Product Import
Product Management
Customizable, Automated Product Input & Management
Web-Based Administration Area
Thumbnail Generator and Unlimited Photos per Product
Multiple Product Options
Live Stock Status and SmartMatch™ Technology
Color Swatch Functionality
Real Time Inventory Management
Vendor Management
Multiple Pricing Levels
Built-In Sale Pricing
Ability to Hide Products
New Products Feature
End Date Product Specification
Assign Products to Multiple Categories & Sub-Categories
Enable Customers to Edit Pricing
Quantity Discounting
Specify Additional Product Keywords
Gift Wrap Pricing Option
Cross-Selling Technology
Four Customizable Product Description Fields
Bulk Data Import and Export
Quickly Edit Orders from VIEW ALL Screen
Ability to Track Order Type
Batch Order Processing
Easy "Drag and Drop" Category Management
Advanced Related Product Functionality
Google Base Integration with Tracking Links Included
Customer Luxury
One-Page Checkout with Guest Registration
Post and View Customer Reviews
Customer Can View Recent History
Lists Available Accessories for Products
Customer Can E-Mail Product Information to Others
Customer Shopping Cart Summary
Gift Wrapping Option
Wish List Feature
Customer Can Receive "Back in Stock" Emails
Security + Reliability
Premium Hosting
Integrated IP Blocking Security Feature
SSL Encryption
Multiple Administrator Login
Administration Area Access History
Microsoft SQL Server 2000 Database
Shopping Cart Features Automatic "Crash Protection"
"Members Only" Website Capabilities
Displays Last Four Digits of Credit Card Numbers Only
SSL Security Seal- Displays Security Seal on Order Page SSL Certificate
Captcha-Type Image Validation Support for All Form Submissions
Live Update
Developers are Constantly Improving Software with New Functionality & Features
Free Quarterly Updates & Software Improvements
Easily Upgrade Your Software for Free and With Just a Click
All Existing Data Kept Intact When Upgrading
Marketing
Completely Search Engine Optimized
Abandoned/Live Cart Section- View Cart Contacts in Real-Time
Dynamically Generated Static HTML Page Creation and Product and Category Index
Google Sitemap Generator
Advanced Newsletter System for Higher Deliverability and Open Rates
Paginated Product Index
Export Feeds to Third Party Shopping Marketplaces
5 Tier Affiliate System
Affiliate Management System
Built-in E-Mail Marketing/Newsletter Marketing
Phone Order System with Sales Rep Tracking
Coupon Generation System
Gift Certificates
Quantity Discounting
Free Shipping Option
Gift Wrapping & Gift Notes
Customizable Checkout Fields
View Your Store's Search Terms
Payment Collection
Accept Credit Cards, Checks, PayPal and Google Checkout With Ease!
Extended Google Checkout Functionality
Tax Calculation System
Supports PayPal Payment Services
Support for Additional International PayPal Currencies
Integrated Currency Conversion
Integrates with Existing or New Merchant Accounts
Payment Processing at Time of Sale OR During Order Fulfillment
Supports Recurring Payments
Supports Automated Promotional Pricing
Accurate Tax Calculation Based on Customer's Location
Ability to Specify Tax-Exempt Customers or Products
CVV2 (Security Code) Support
Configurable Currency Symbol
Supports Google Checkout UK
Easy Navigation
Large Variety of Customizable Navigation Styles
Browse Products by Category
Built-In Search Capability
View Related Products
Unique Checkout Progress Bar
Six Ways to Sort Search Results
Live Search Hints to Easily Find Customers and Products
Other Integrations
Stone Edge Order Manager Integration
Endicia/Dazzle Integration
Pitney Bowes Integration
Direct QuickBooks Integration
Receive XML Datasets
Administration
Powerful Administrative Control Center
Full-Featured Customer Relationship Manager (CRM)
Full Featured Reporting Section- Generate Custom Reports and Graphs, also Includes Built-In SQL Editor
Customizable Real-Time Executive Dashboard
Quickly Switch Sections and See Only the Data You Need to See
Rate of Return on Investment (ROI) Tracking
View & Process Orders Online
Ability to Print Packing Slips, Receipts and Invoices
Automatic Shipping Confirmation E-mails and Ability to Send E-Fax Confirmations
Ability to Print Gift Notes
Integrated Point of Sale (POS) System
Inventory Management
Low Quantity Alarm
Full Vendor Support
Generate Reports and Statistics for Information on Customers, Products, Affiliates and Sales
Returned Merchandise Authorization (RMA) System
Easily Enable or Disable Store Features
Integrated WYSIWYG Editor
Completely Integrated "Instant Help" and "Certified Training"
Administration Managed "To Do" List
Quick Edit Toolbar
301 Redirects- Add and Manage True 301 Redirects from a Single Page
Input Orders Directly Into Your Backend
Point System in CRM for Staff Performance Tracking
CRM Supports Ability to Log and Track Phone Calls
Phone Order Page Supports Anonymous Checkout
Syntax Highlighting for HTML
Easily Create "Free Shipping" Coupons for Customers
Google "Map It" Link on Order Page
Specify Maximum Text Length on Options
Customer Tools
Customer Account Login – Create an Account or Remain Anonymous
Customer Can Update Information Within Their Account
Customer Can View and Modify Orders
Customer Can Track Packages Live
Customer Can Manage Additional Features
Shipping Features
Integrated with All Major Shipping Companies
Batch Order Printing Capabilities
Automatic Live Shipping Rate Lookup
Live Package Tracking
Unlimited Shipping Calculation Types
Additional Shipping Weight Calculation (Shipping & Handling)
Digital Downloads for Software Product Sales
Automatic E-Mail Shipping Confirmation
Multiple Warehouse Support
Quick "Estimated Shipping" Calculation
Advanced Label Printing- Print USPS, DHL WorldWide and FedEx Labels Directly From Your Own Admin Department.
Fast Live Shipping Rates
Live Rates with Canada Post
Dimensional Shipping Support for UPS
Support for Multiple Warehouses
December 23, 2011