Business to Business Internet Marketing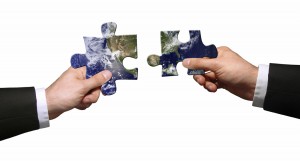 Unlike B2C marketing where businesses focus marketing efforts on direct consumers, B2B marketing focuses their marketing efforts on other businesses. With the end goal of selling services or products with businesses as opposed to individual consumers, B2B Internet Marketing has become a major focus for all online marketers.
Implementing a successful B2B marketing plan online relies on processes similar to B2C, but recognizes the differences in buying power, needs, interests and direction. In order to successfully optimize and market an online B2B company, it is necessary to easily be found on the major search engines and Search Engine Optimization (SEO) is critical toward that objective.   In addition, Sponsored Search Advertising, most frequently using a Pay per Click (PPC) model, is another B2B Marketing Strategy to achieve strong visibility.  Combined, SEO and PPC focus on one thing: page 1 rankings on Google and the other major search engines.  Here we will provide some structure to what SEO and PPC are all about.
SEO
Search Engine Optimization (SEO) is the specific set of strategies to generate top page organic rankings, increased traffic and sales.  SEO mainly can be segmented into 2 main tracks:
Onsite Optimization
Offsite Optimization
Onsite Optimization
As the name implies this involves all of the on-page elements that a search engine crawler is interested in.  It is important that the information be presented to the crawler the way the search engines want it.  This involves:
Keyword Research – This is the cornerstone of any internet marketing strategy.  Text is the source of virtually all searches of course so the keywords / phrases that are actually entered by real people need to be studied and understood.  You need to know what your target audience is typing … and I assure you that you don't know them all.
Unique, highly relevant, keyword rich Page Titles and Descriptions
Properly implemented Page Titles and Meta Information.
W3 Validation of Website Code
Implementation of dynamic sitemaps
Constant additions of new content (articles, press releases, videos, podcasts, etc)
Dozens of more elements.
Offsite Optimization
This is ultimately the most important element of SEO because this always involves the promotion of your content towards the generation of highly relevant, naturally occurring backlinks.  Backlinks are one way links originating from someone's website pointing directly to specific content on your website.  Backlinks are the most important factor Google uses to differentiate and ultimately rank based upon relevance.  The basic reasoning is this … backlinks represent a vote by someone else in favor of your website.  If the backlinks originate from sites with strong Google PageRank or strength, the greater the quality of the Backlink.  So, quality AND quantity are important towards generating backlinks.
So how do you get high quality and quantities of Backlinks?  CONTENT.
Fresh, non-duplicate, quality content that is constantly added to the website, indexed by the search engines, preferably using a dynamic site map, strong syndication processes involving authoritative websites, including the social media to attract and build high quality and high quantities of backlinks is how content fits into SEO and organic rankings, visibility, traffic and ultimately new business.
PPC
PPC is actually advertising and is bid-based. Potential advertisers bid on placement for their ads on search engines. Bids can range $0.15 to over $50 (rare cases) for a single click. Popular keywords with more proven traffic potential typically cost more. Understanding how much to bid for your campaign is often as much a function of trial and error as it is research. Once an advertisement is placed, the business owner is responsible for paying the agreed upon price only when the advertisement is clicked on. This is advantageous for the advertiser as they only pay for the advertisement when it is used and an action is taken place.
PPC advertising is based on strong keywords / research; like SEO strategies. Selecting the best keywords for a PPC campaign can be challenging. In fact, choosing the wrong words or phrases for a campaign is the biggest mistake new advertisers make. The key is to find relevant and unique words to build your advertisements on. The reason for this is twofold. First, selecting words that are too general will decrease the amount of targeted traffic you receive. For example, if your product is organic cleaning products and you choose to build your campaign around the keyword 'cleaning products,' you are likely to get visits from people that are not interested in organic products. Second, more generalized words typically get better results. Returning to our organic cleaning product list, 'cleaning products' is much more likely to receive visits than 'organic cleaning products' and will drive your costs up. In addition, more people will click the ad, which will deplete your budget. Plenty of clicks are good, but only if they are the right kind of clicks and can convert into sales. Otherwise, you'll see a lot of clicks, and no conversions. Failure to select the proper keywords to build your PPC campaign around is the biggest pitfall of these types of advertising campaigns. With PPC, you must also make sure that your landing pages for the ads are extremely relevant. This will increase your quality score and the overall success of your PPC campaign.
We write extensively and in much greater detail about SEO and PPC throughout our website at Optimum7 and you are encouraged to visit and review this treasure trove of information.
B2B Internet marketing has very much the same challenges as Internet B2C businesses … YOU MUST GET FOUND.  SEO and PPC can make your business highly visible and be found at that magic time when the purchaser is actually looking for you.
Do you seek B2B page one visibility, increased leads and sales?  Contact us … we can help!