Ecommerce
Case Study
The Customer
Challenges
The challenge our client faced was simple: they wanted to increase their online visibility in order to generate more sales. Therefore, our client needed to rank more highly on search engine result pages for related searches. We had to focus on helping our client rank for niche keywords, knowing broader keywords might be too competitive to rank for. We also needed to build our client's brand and get them in front of potential customers wherever they might be.
Our client had essentially zero relevant content on their website designed to bring in organic traffic. Analytics data showed this stark trend just prior to 2008 and into early 2010. Our client also lacked visibility online in terms of branding, marketplaces, shopping comparison sites et al.
The stagnant growth below is typical of a business website without a solid content strategy and digital marketing efforts.
A multifaceted approach was devised to combat our client's lackluster online lead generation.

Approach
Content marketing
PPC
Outreach/backlinking
Marketplaces
New responsive design
Shopping comparison sites
Conversion optimization
A content strategy is critical for any brand trying to increase their organic traffic. Higher organic traffic directly translates into greater conversions. We identified our client's industry niche: ID printers, badges, accessories etc. We then created content to boost their rankings for keywords related to their niche and therefore traffic.
A pay-per-click (PPC) strategy was devised to get our client in front of potential customers. KPIs were set and we continue to beat ROI expectations.
Outreach in the way of direct personal contact with bloggers and other webmaster's to gain backlinks was conducted.
A website redesign was conducted in order to transfer the majority of the website to a more search engine friendly platform.
Volusion was utilized as the primary platform for commerce due to it being a powerful platform at the time. The client has migrated to Shopify afterwards.
Creative ideas were also devised to generate traffic and build high authority backlinks. One strategy was the creation of a client-branded scholarship to seek highly coveted .edu backlinks.
The client was introduced to marketplaces like Amazon and Jet. Optimum7 consulted the client along the way. The client does millions annually on these marketplaces after 10 years.
We also implemented a CRO strategy. The product pages were simplified and the ordering process was improved. Calls to action and trust building elements were emphasized on cart and checkout pages. Close to 5 new functionalities were implemented such as loyalty discounts and abondoned carts to increase conversions.
Result

The number of online sales received would then go on to increase substantially. Our content strategy along with our other marketing efforts began to be implemented in early 2010.
Prior to 2010, online sales were typically under 100 per year.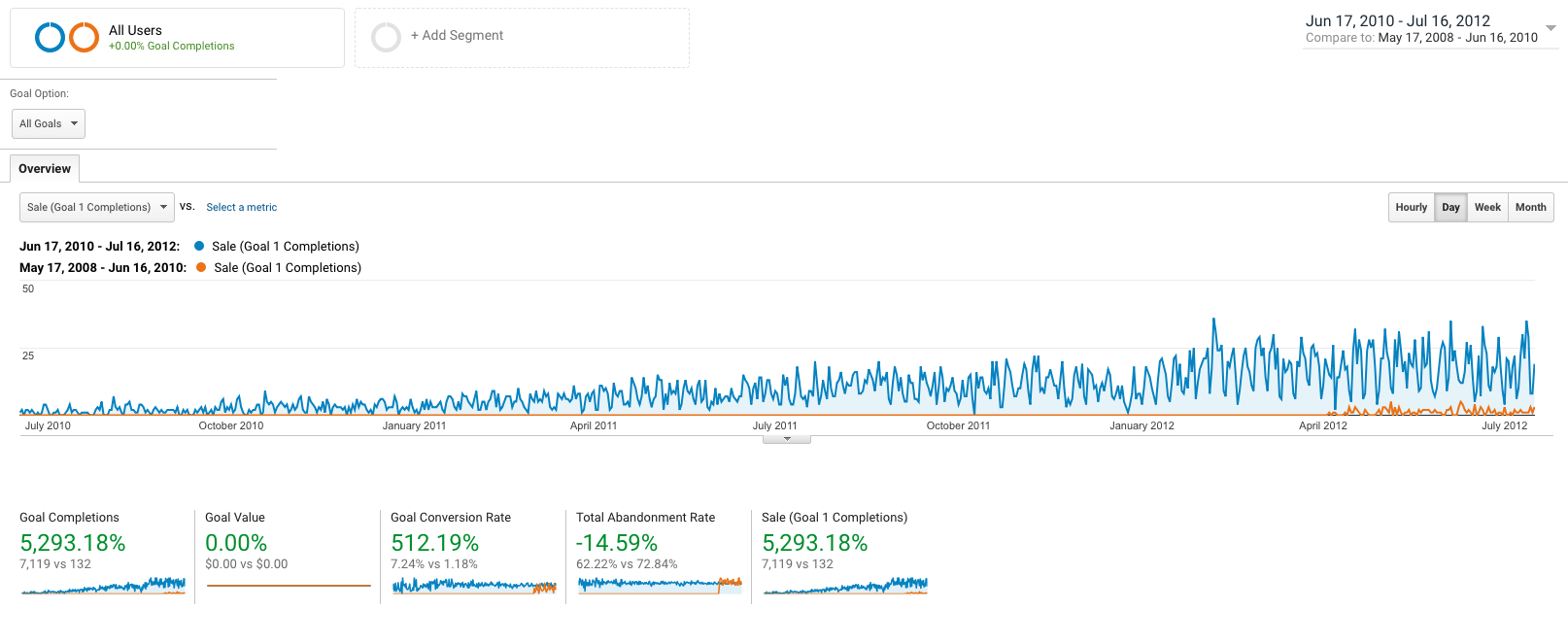 In 2010, the first year when the first targeted content strategy was implemented, the number of online sales soared.
Conclusion