Google Instant Preview and SEO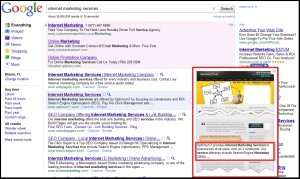 The introduction of Google's Instant Previews has brought with it an increased need for organic SEO rankings as well as a targeted landing page that's informative and to the point. Now before users clicks the search result and goes to your site, they can preview whether your site is relevant to their searches or not. Bottom line:  If you don't have enough quality backlinks to boost your organic rankings in the SERPs and if your pages are not specifically targeted for the keywords you are optimizing for (including textual and design elements), you are likely to get less traffic and leads from organic results.
Let's say that you searched for "Internet Marketing Services" on Google. You are likely to see Optimum7.com in position 2 or 3 on Google search results. Now, when you click the magnifying glass right next to Optimum7.Com link, you can see a preview of what the target page looks like. Moreover, Google highlights the search term "Internet Marketing Services" on that preview which further tells the user if the target page has what they're looking for. This is all in an attempt to make the search results as targeted as possible for the user.
The effect of having Google's Instant Preview available to users is that your e-commerce or e-business website is probably experiencing an abundance of visits that only last a nanosecond. It is more important than ever to boost your online business through the use of effective, substantive SEO. Between the Instant Previews function and the ability of Google's search engine to discern the difference between well –written, informative SEO and low quality content farm SEO, obtaining the services of a professional SEO company it is no longer an option. How else are you going to increase traffic to your site?
If you are an online company, your options for increasing revenue have become more narrowly focused. You must build organic back links across the Web to end up in a result listing that will get your site to eyes that are interested in what you're selling! The only way to do this is through content generation; not the keyword loaded, no beef content that is of no use to your target demographic, but actually informative, interesting, engaging content that users will circulate on their own to other interested people.
The more users find your content useful, the more they will post it to other websites. In addition, SEO demands that you do some circulating yourself to conspicuous places. That's why you need an expert Internet marketing company to syndicate thoughtfully created content across the web to social media sites, social bookmarking sites and other places where it will get seen and picked up by a wider audience.
Then, when a user plugs in a keyword or search term that is relevant to your widely distributed SEO content and to your targeted Pay per Click Campaign launched based on those keywords, your site will end up in a SERP that isn't negatively affected by Google's Instant Previews function. The user will find you, preview your site and pay you a visit.
Your landing page and your website also need to be optimized to keep the visitor there and encourage them to convert, leading to increased sales and lead generation. Does Google's Instant Preview affect your online business' visibility and profitability? Yes, but with the right kind of Search Engine Optimization (SEO), it doesn't have to be a negative effect. Contact us to see how you can use Google Instant Previews to your advantage.